I was gifted with four old bantam chickens when I moved into my house, they were about 7 years old, so a little dusty and wobbly, but still great egg layers. But some weeks ago my gold pekin hen and bantam rhode island red went broody, so obviously it seemed a good time to contact some chicken breeders and have them put together a mixed bag of bantam eggs that I could then sneak under them.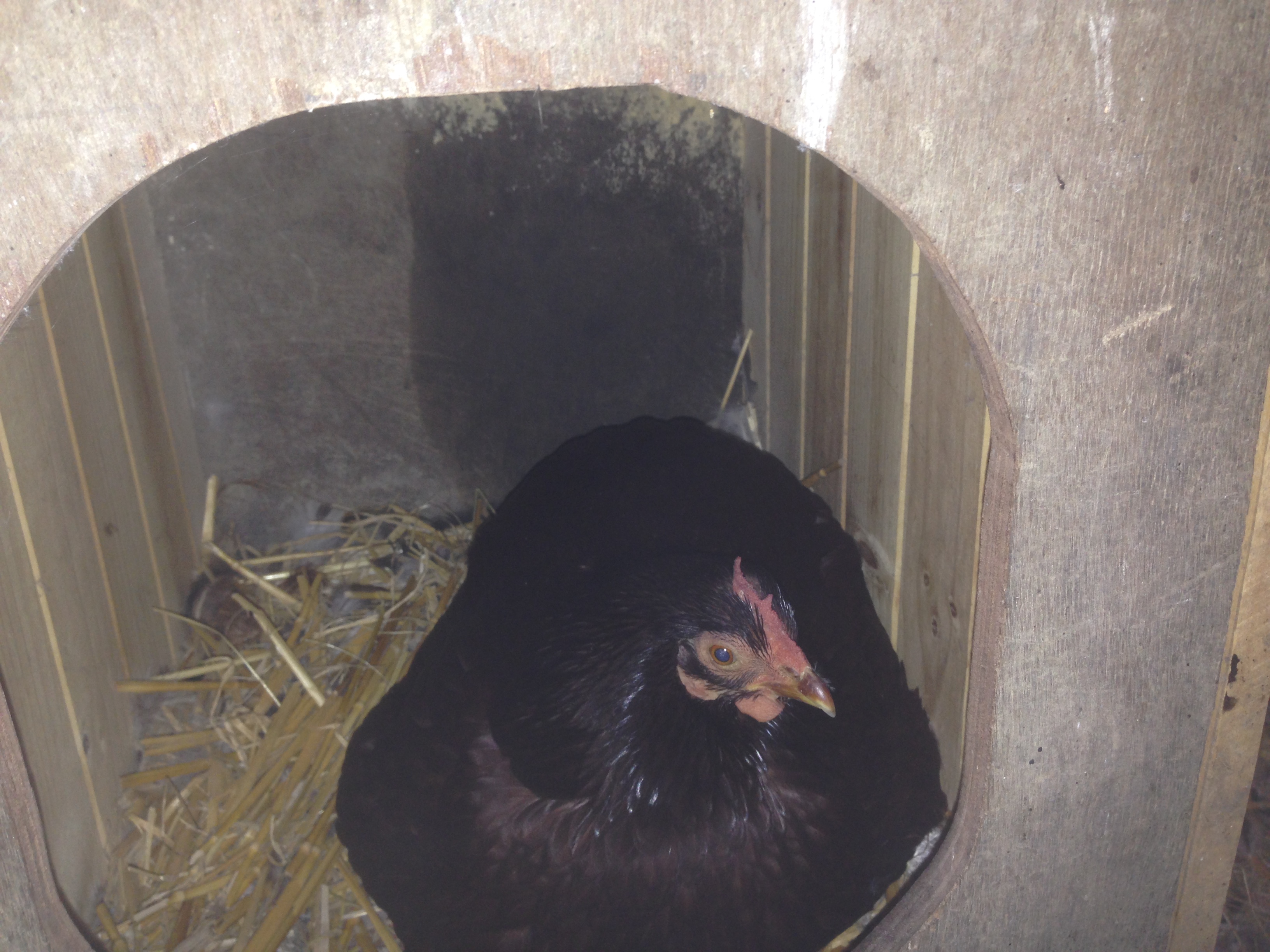 But bantams don't have a huge egg sitting capacity, so I decided that building an incubator to put the overburden of eggs in could be an interesting project. I found a whole heap of 32mm x 32mm square dressed pine at my local hardware store on special, so I decided to use that as the main frame. The rest of the pine was ripped from some old scrap planking and fed through the thicknesser to make everything a uniformed size. The project was inspired by a heap of unused 3mm plywood sheets that had been getting in my way for years.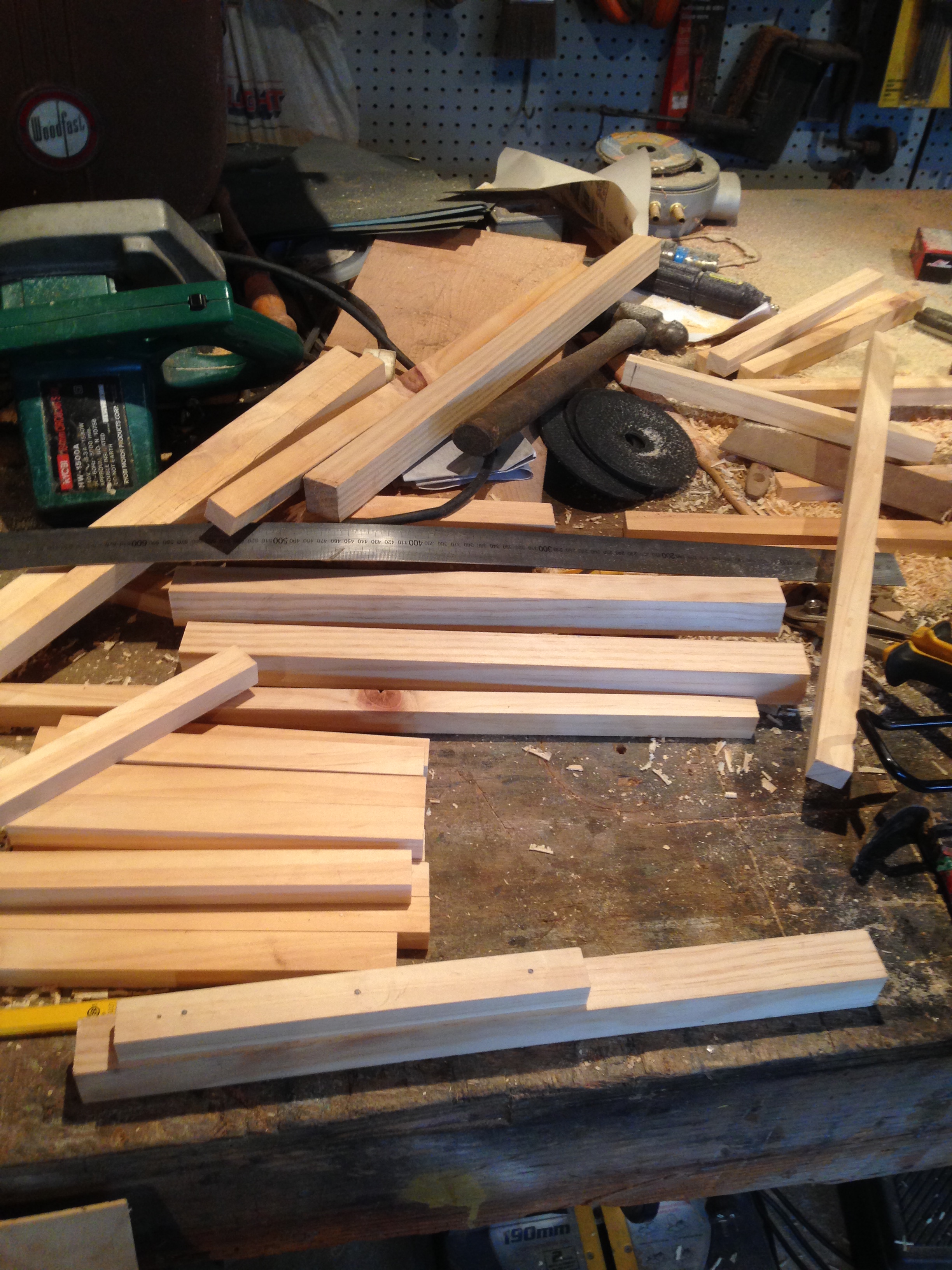 The frames were just nailed and glued together using long bullet head nails, I just couldn't be bothered doweling an incubator together.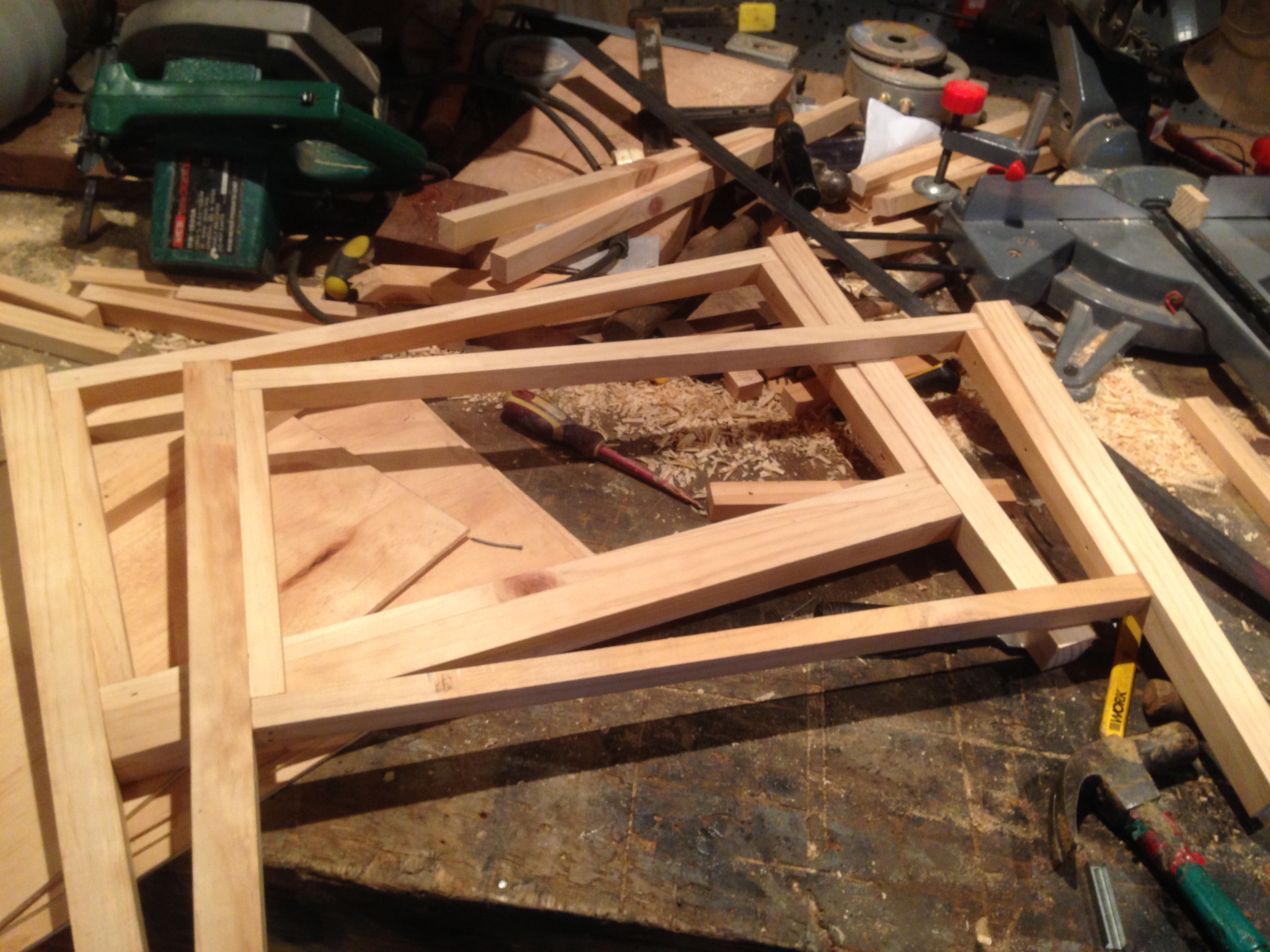 The back of the incubator frame was left open as there was to be a door there for accessing all the electronics. as you can see the inner support frame is about 3mm smaller than the main frame, this is to accommodate the plywood and leave a flush finish.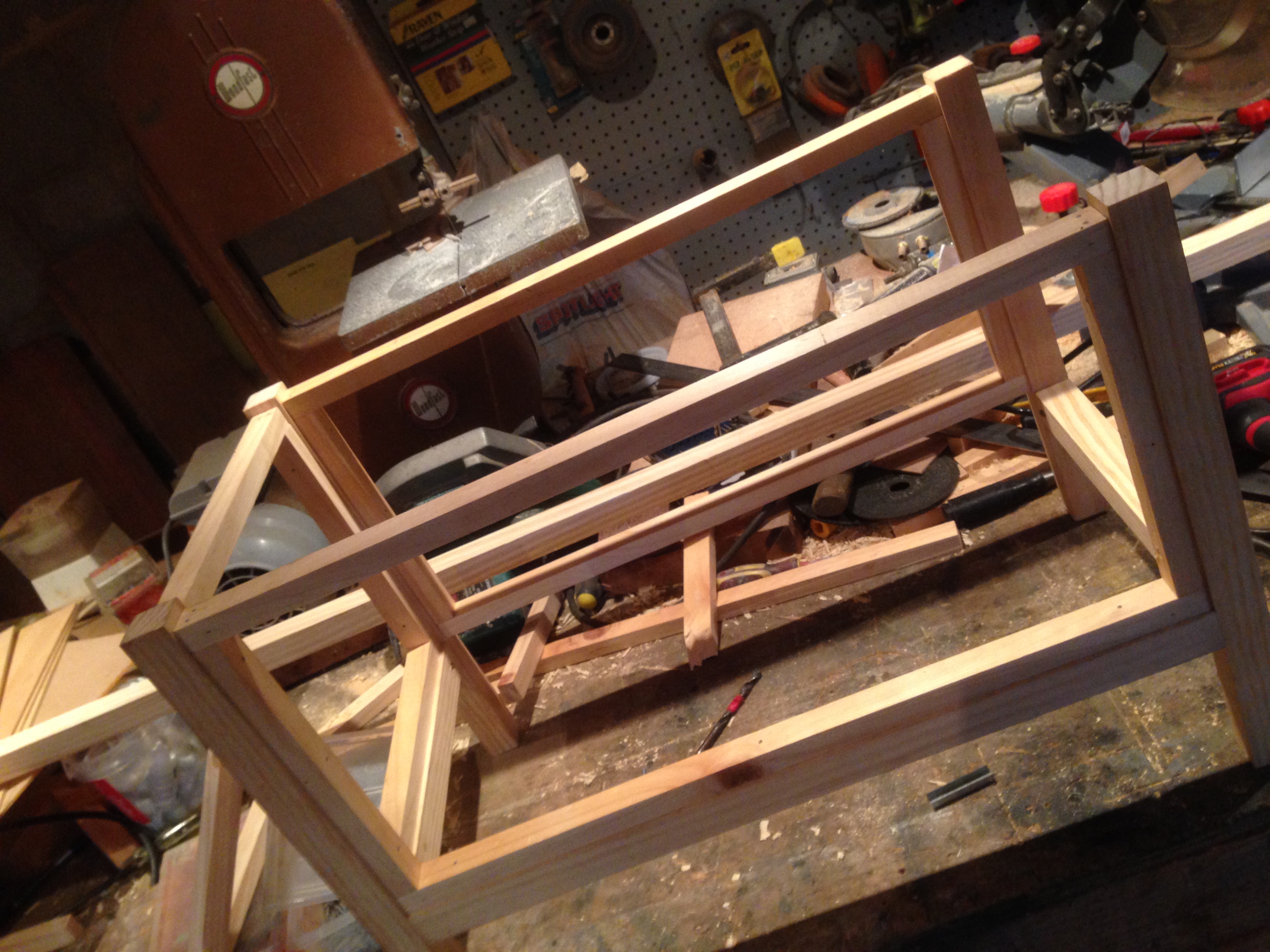 After some careful measurements and a fresh Stanley knife blade I cute the plywood sides, because all the frames were cut on my docking saw with stop-ends, I could safely assume that all the panels would be identical sizes.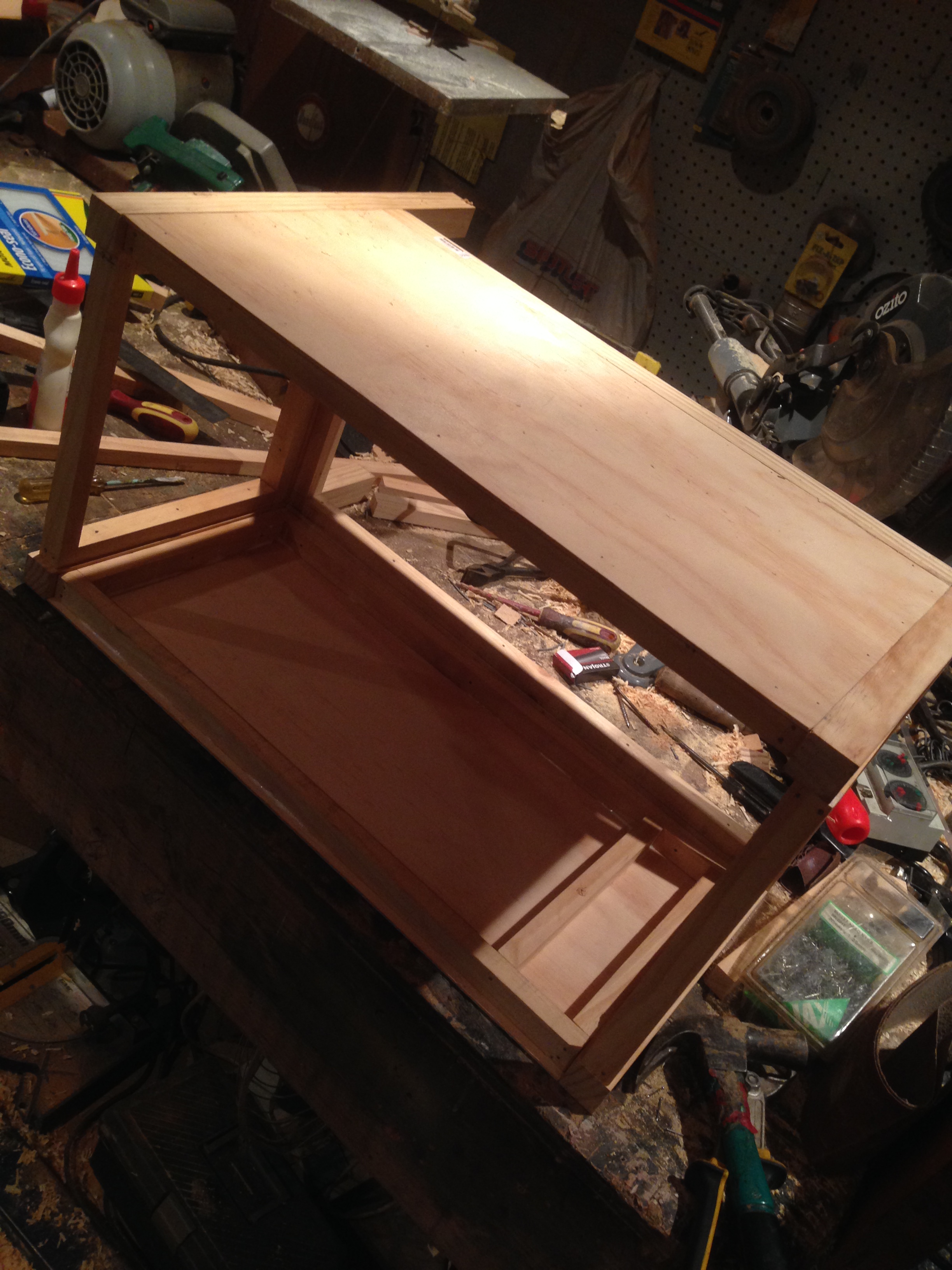 So the plywood was simply nailed and glued onto the support frame with an extra piece of frame added where the rear baffle was going to attach.
The it was crammed full of polyester insulation off-cuts, but I'm sure that styrofoam packing or glass/rock wool would have done and excellent job too.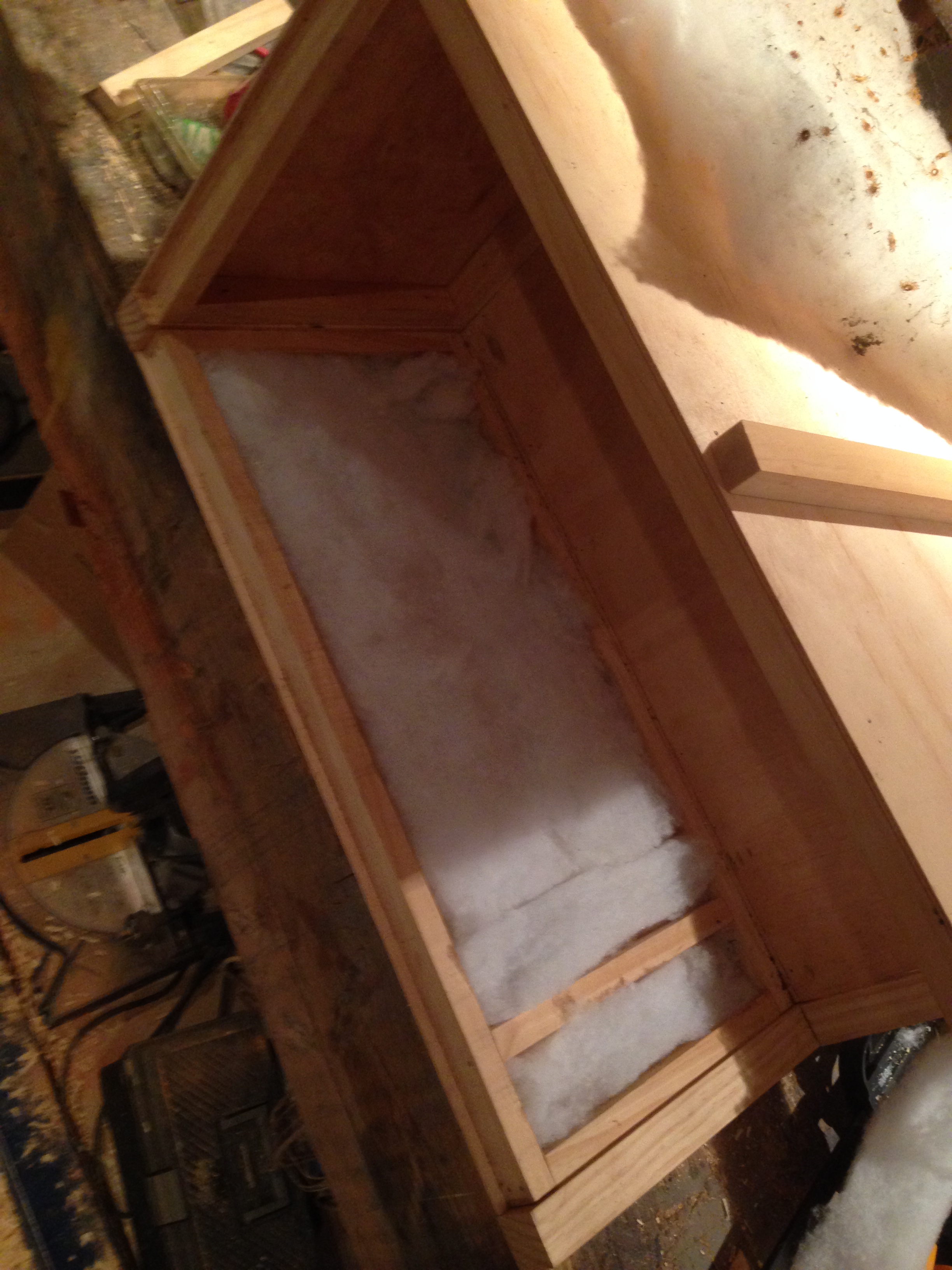 The inner lining panels where then glued and nailed in place to make a nice little insulated unit. there was a 5mm recess along the top edge which is to accommodate the foam rubber lid seal.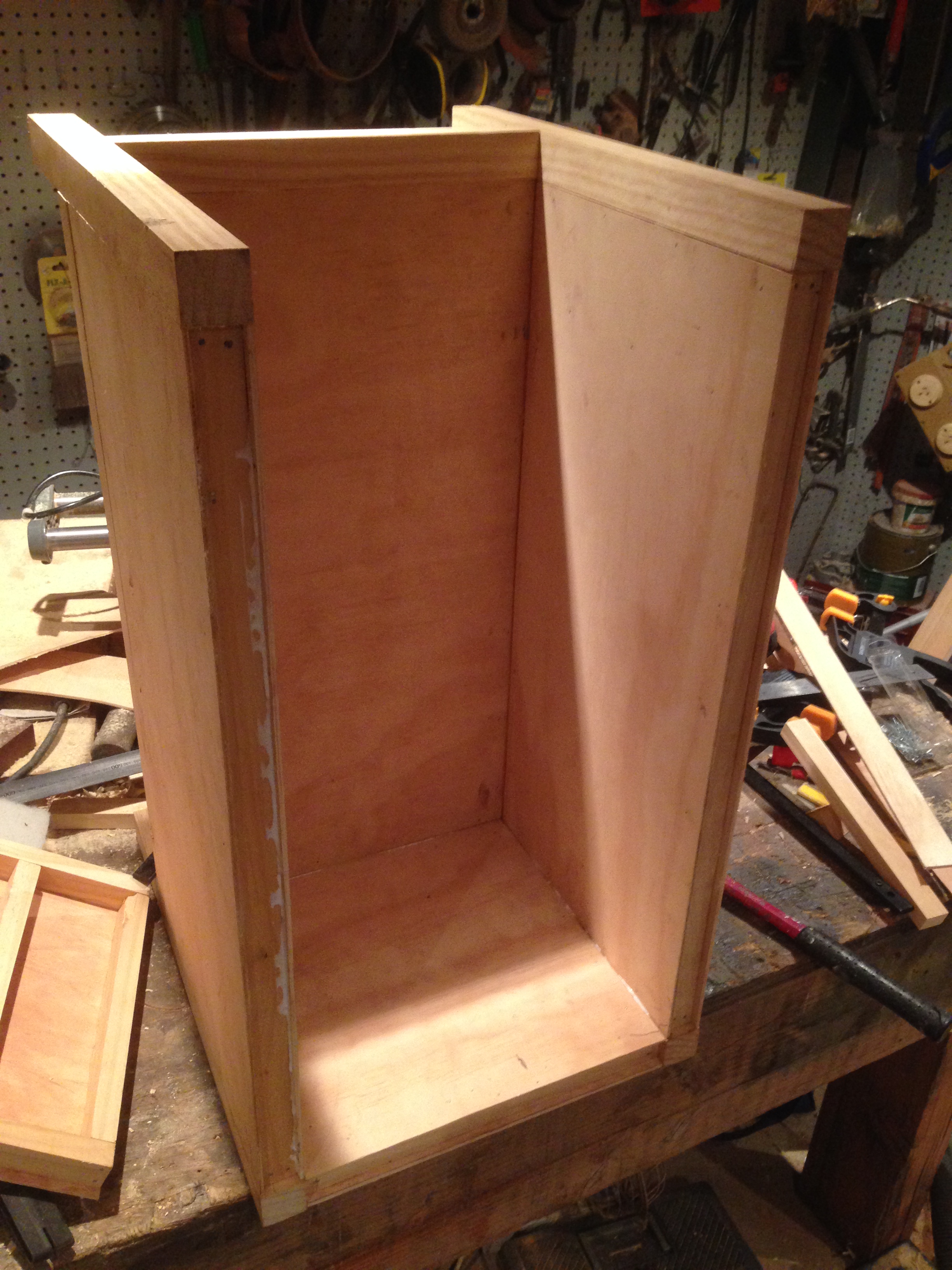 The next piece was the lamp and fan holder assembly, this would also be used to hold the humidity and temperature meter display panel.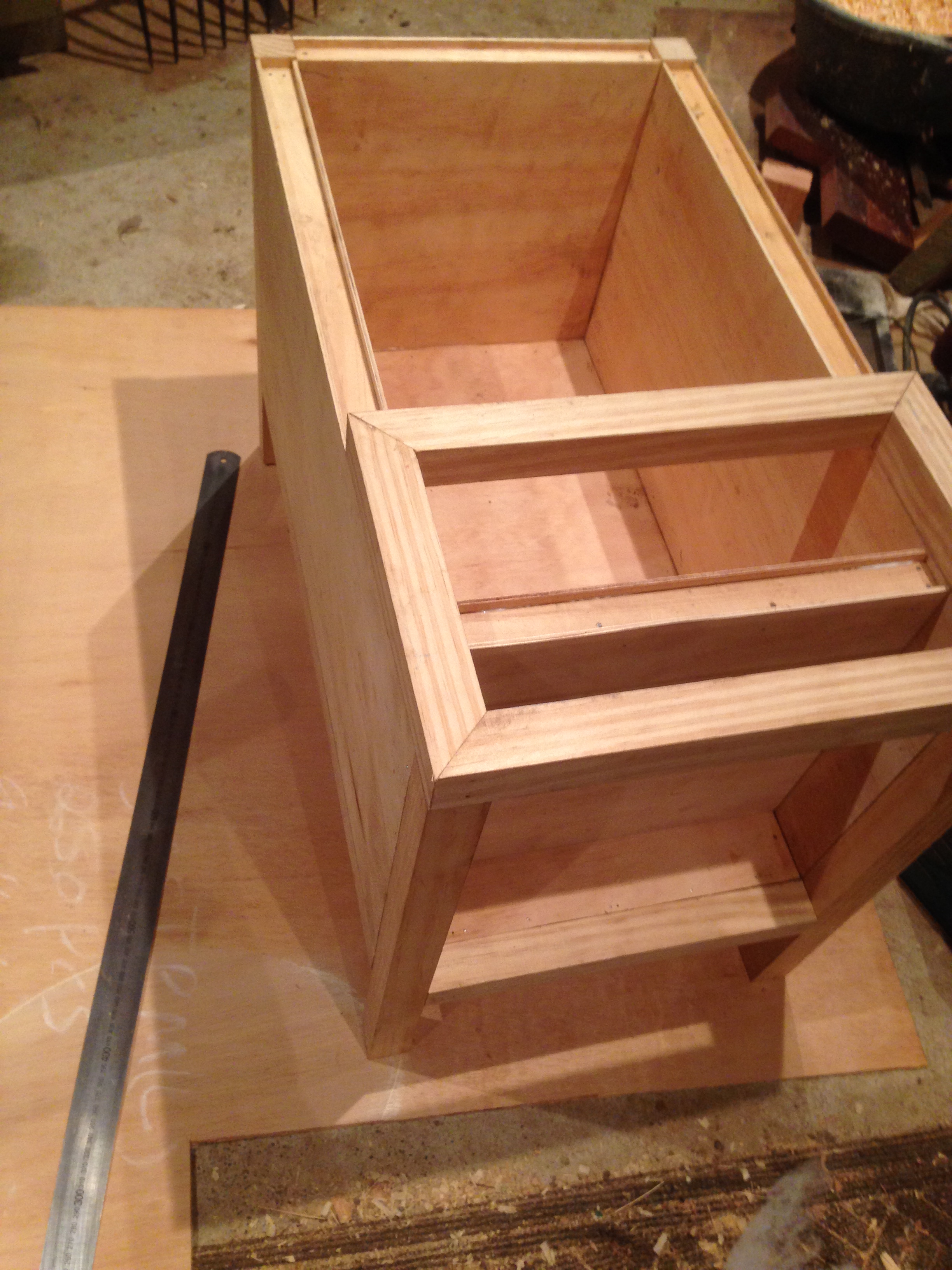 I used some ceramic lamp holders that I had from a box of op shop electrical fittings, but plastic would have been just as good as we're not running huge wattages or temperatures. The fans were just some old case and PSU fans that I scrounged, any computer store will happily give you their busted power supplies if you need free fans or capacitors.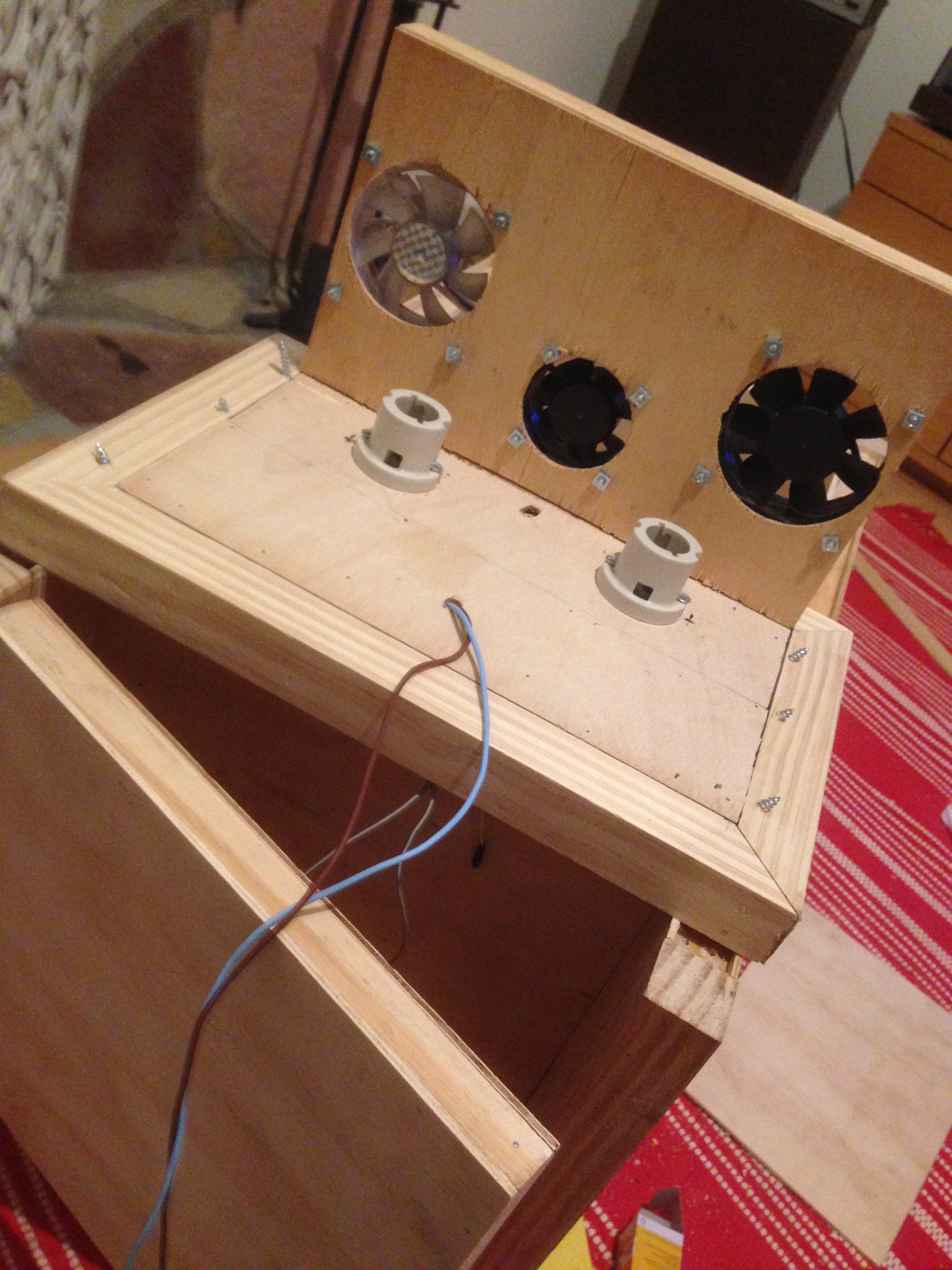 The bulb/fan holder assembly was just held down with some ling diagonal screws, as this part needs to be easily removable for bulb changes. Some resistors were added to slow the fans down, basically to reduce noise, and there are a lot of good online calculators to find the resistor values required.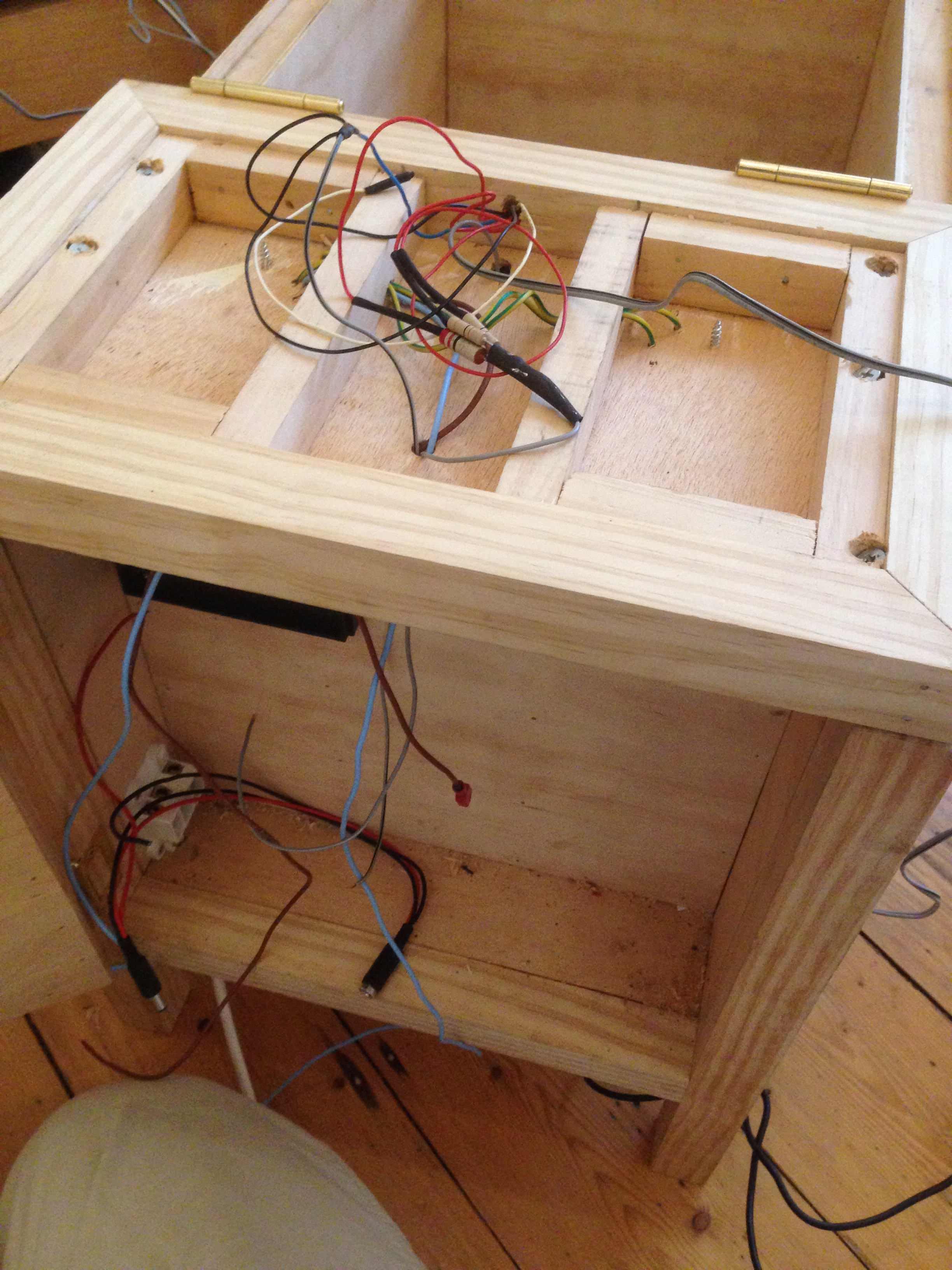 An insulated door was made for the back, mostly to reduce the noise from the mechanical egg turning timer, and to retain any heat that leaked past the rear baffle. It's also important to have any mains wiring locked away from prying fingers.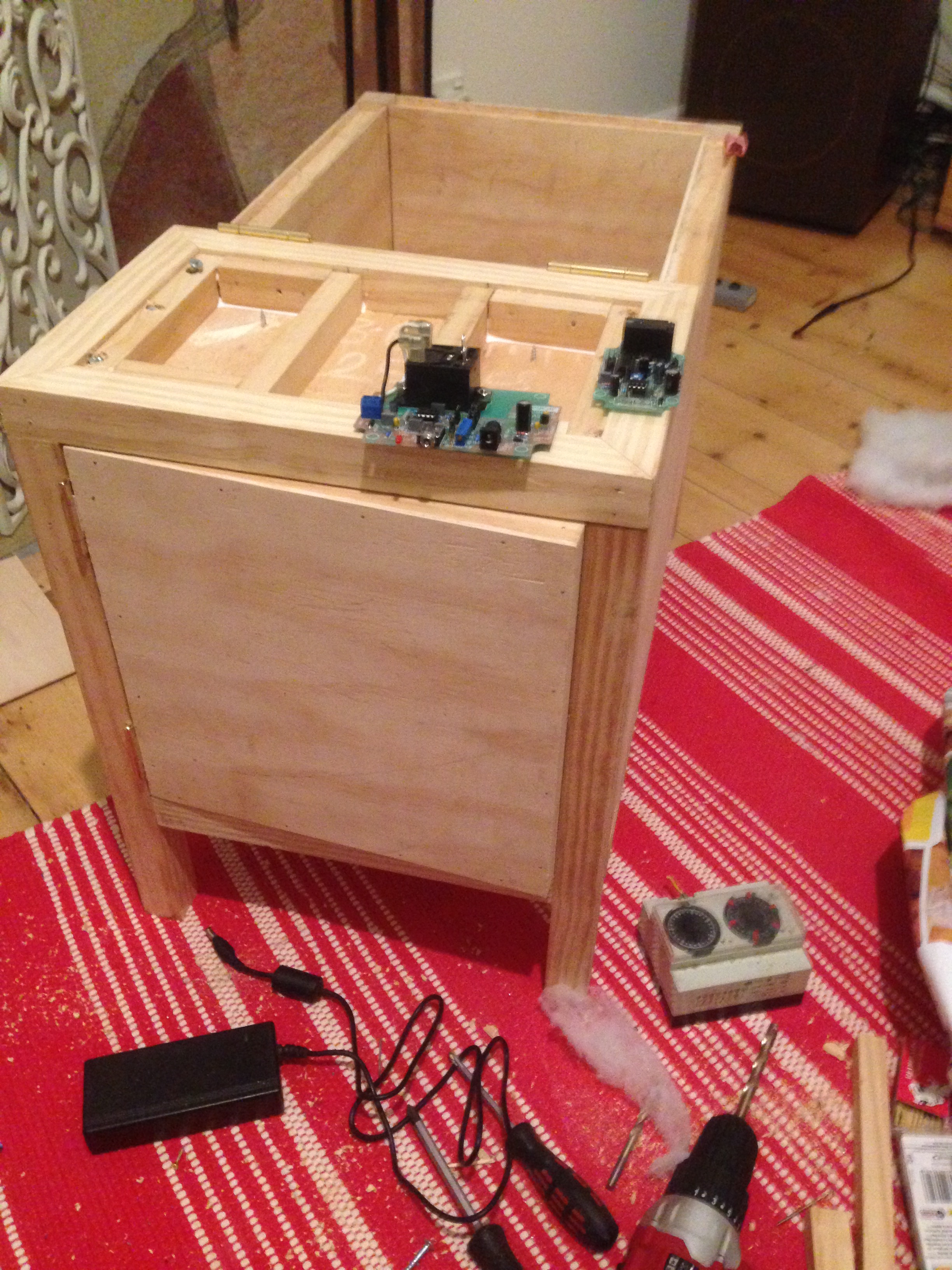 Next I made the egg platform and egg rotating frame, the egg platform was simply an IKEA shoe rack which I had added more slats to, while the egg rotating platform was simply a wooden frame with evenly spaced dowels and a groove down one end for the motors crank to turn in.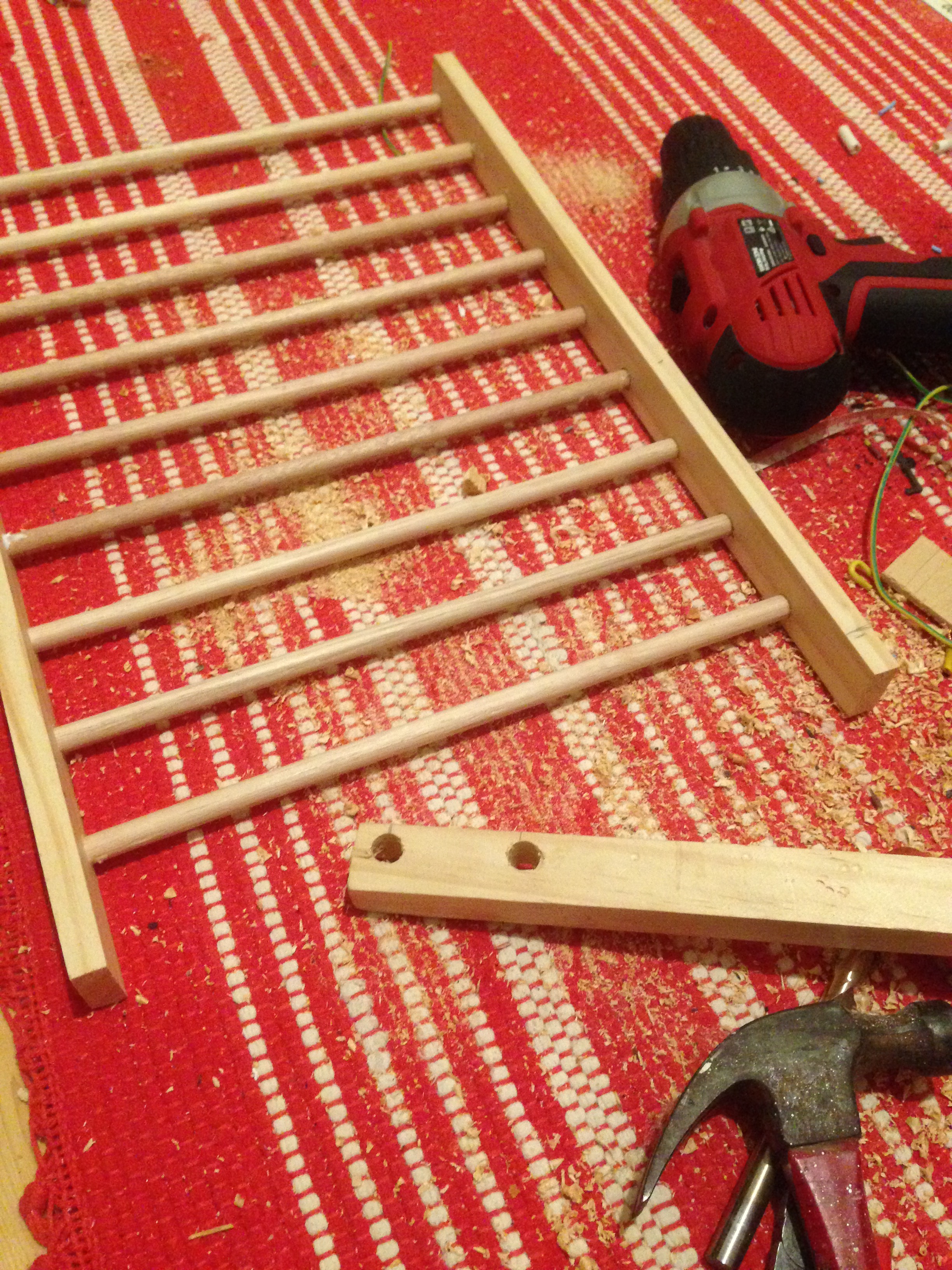 Obviously an incubator needs a temperature and humidity display, I found a nice easy to see one at my local Jaycar for about $20, the accuracy was stated as + or – one degree, but after testing it against my glass laboratory  thermometer it was spot on. None of these hygrometers have remote probes, so I set about remote mounting the sensors.
The humidity sensor was easy to find as it was just sticking out of the board, but the temperature sensor was a surface mount thermistor, so after un-sweating it I found an old piece of strip lighting board to mount it on.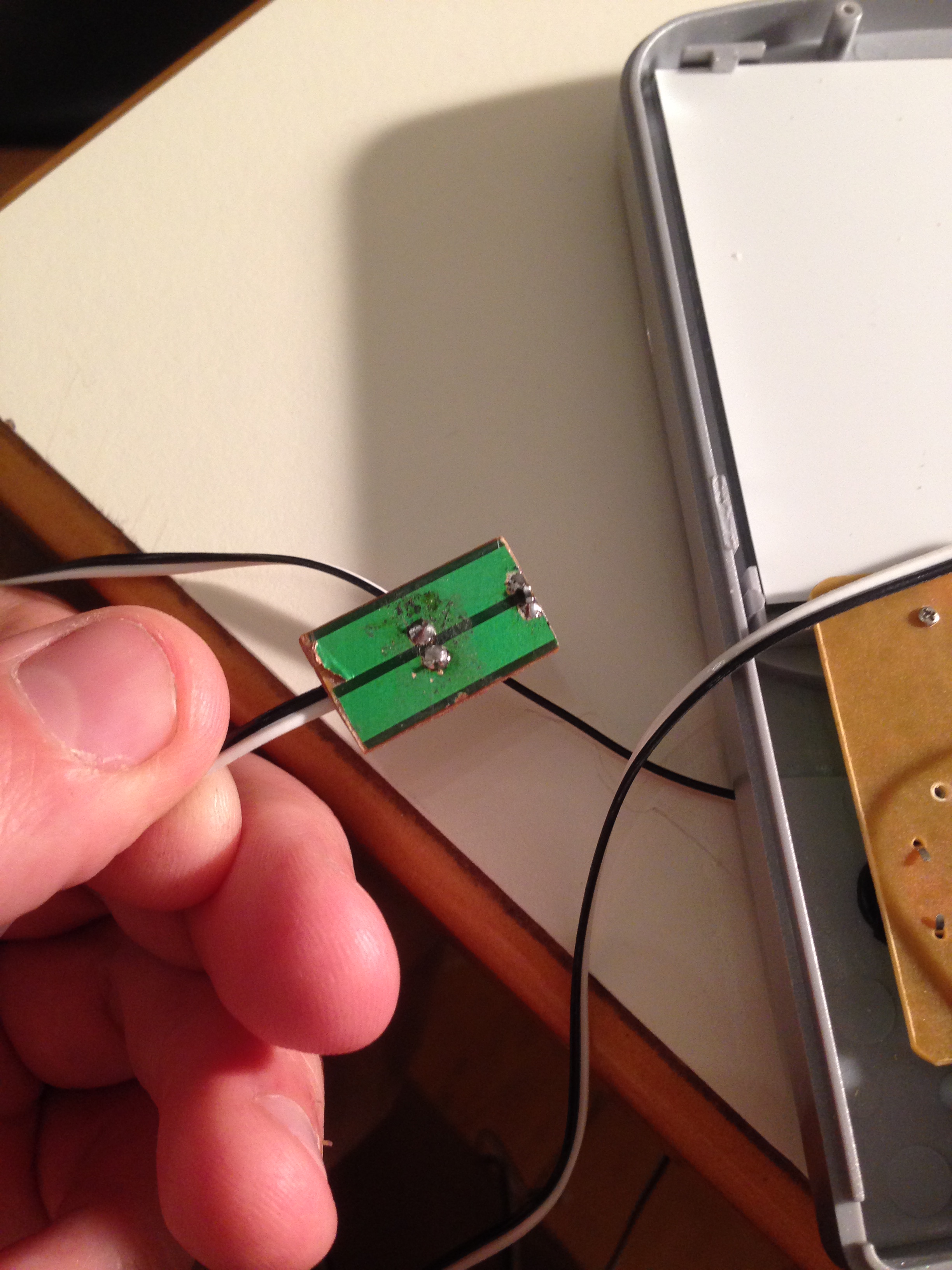 Success, both sensors working as they should.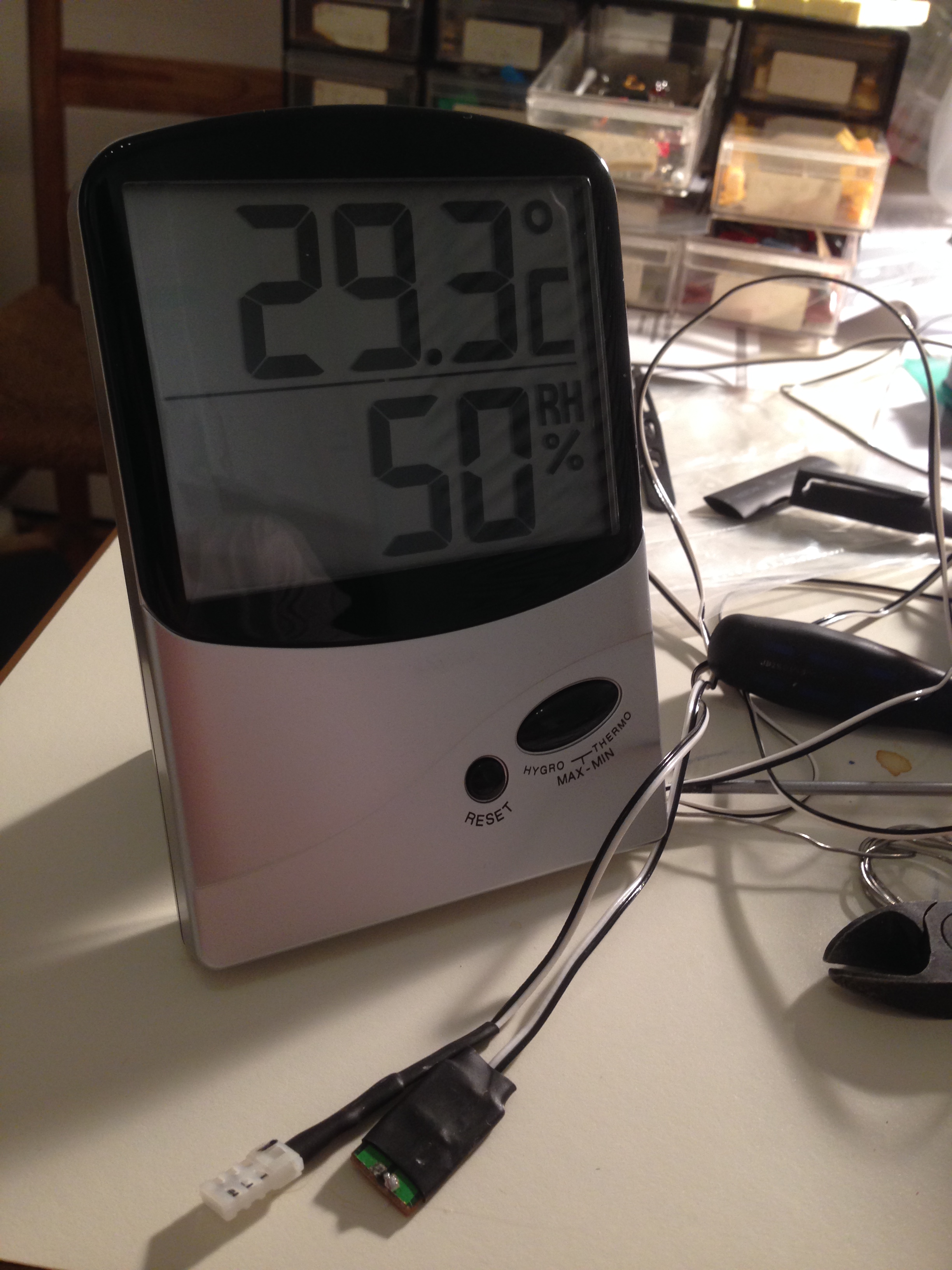 With the egg platform and egg rotating platform in place, the temperature monitors and thermostat sensors are simply attached to a piece of pine just slightly above the top of the eggs.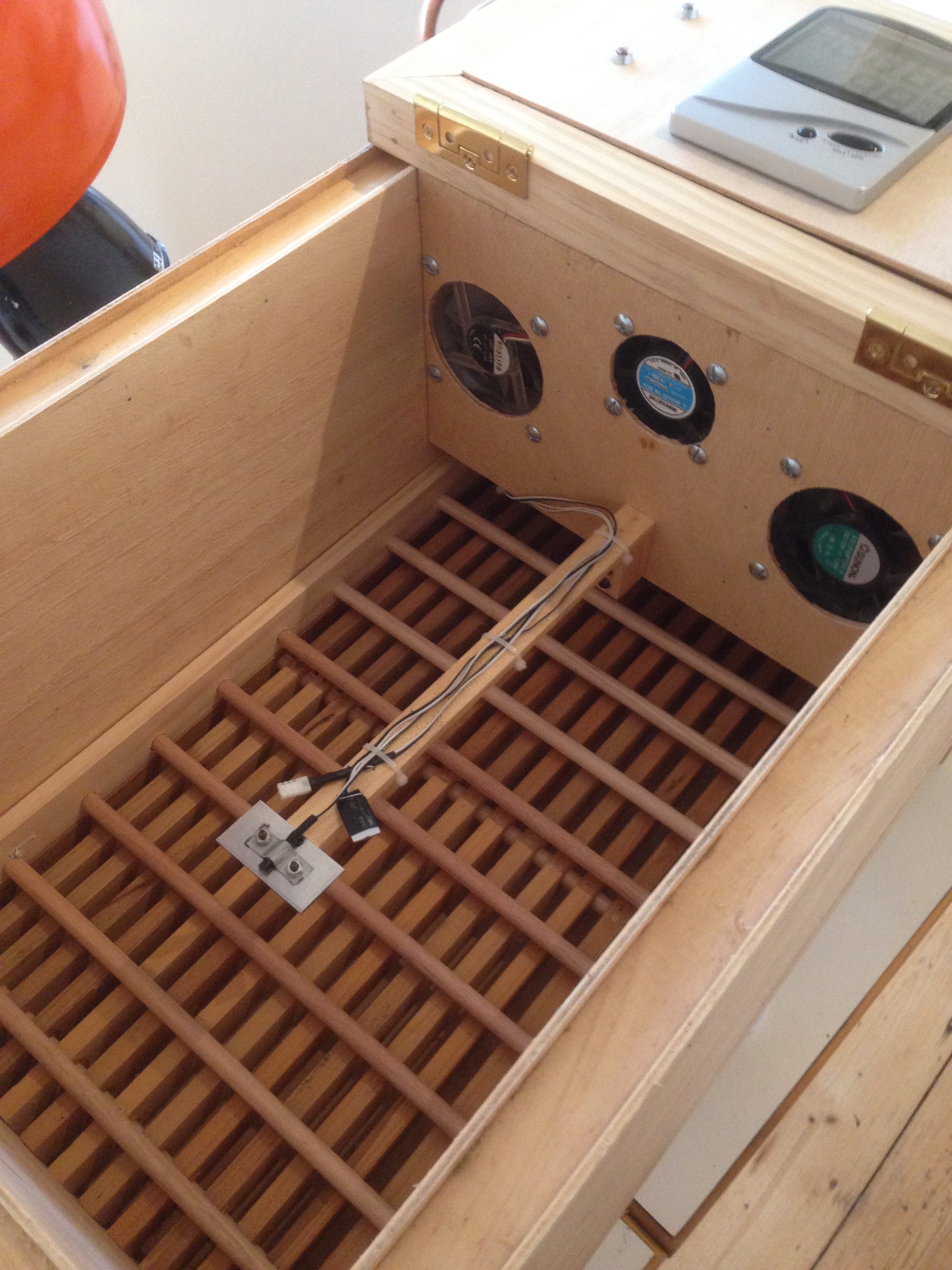 With everything in place I started to wire it up. The temperature control is done with a Jaycar TempMaster MK3 Electronic Thermostat Kit, with the small modification of having replaced the 10uf tantalum hysterics capacitor with a 1uf tantalum capacitor, this reduces the time it takes for the thermostat to kick in once it drops below threshold, and tightens the temperature range up a little.
The mechanical timer was a found item that had been gathering dust for years, this is used to trigger the egg turning mechanism. But because the mechanical timer stays on for a minimum of 5 minutes I used it to trigger a small Programmable Interval Timer kit from Jaycar which powers the turning motor for 4 seconds before shutting down and waiting to be reset by the mechanical timer. It's not an elegant solution in the slightest, but the kit was in the clearance bin for $13 and my arduino was still in the post somewhere in china.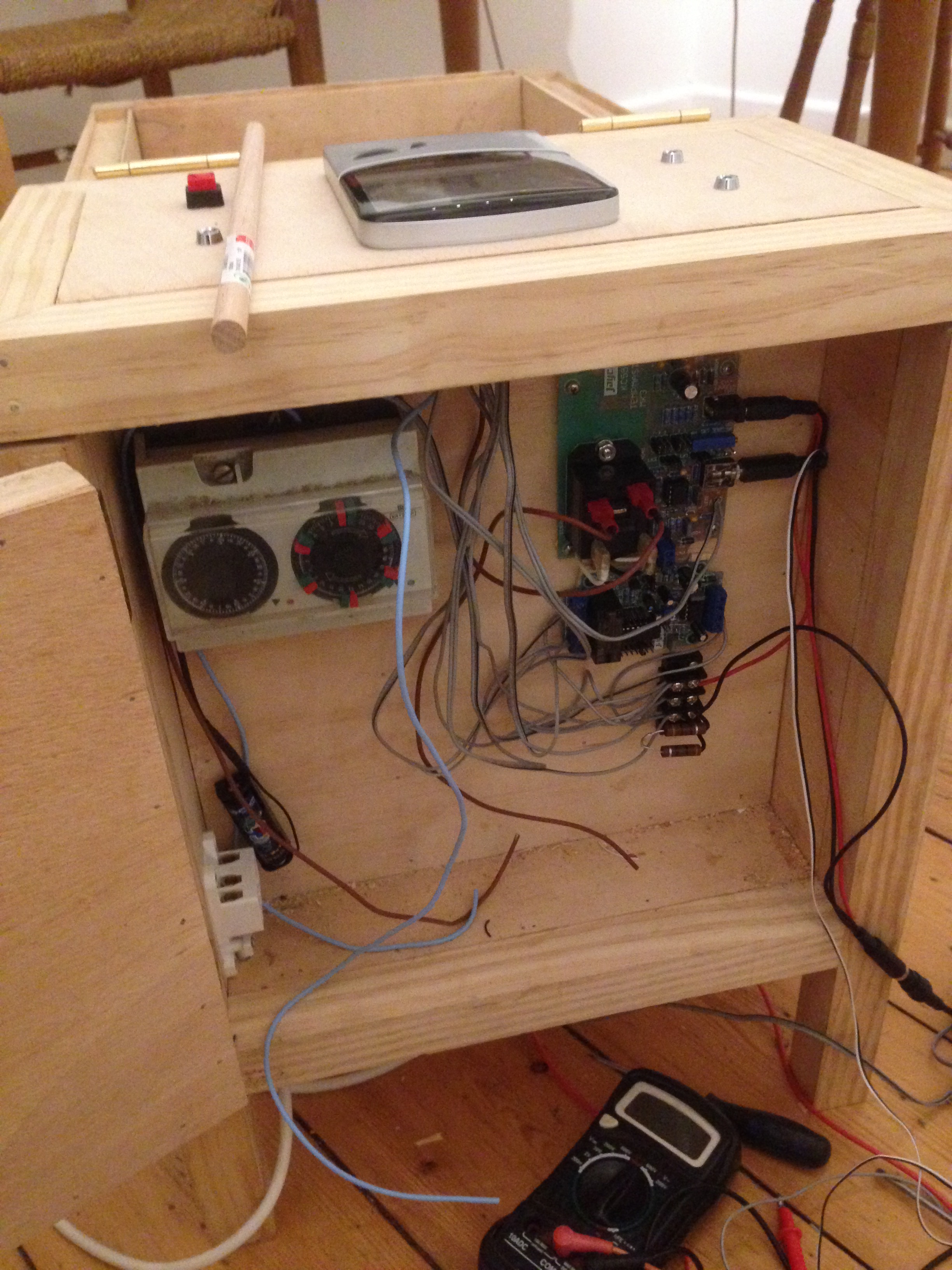 Again the lid was just some mitered 32mm square pine, nailed and glued.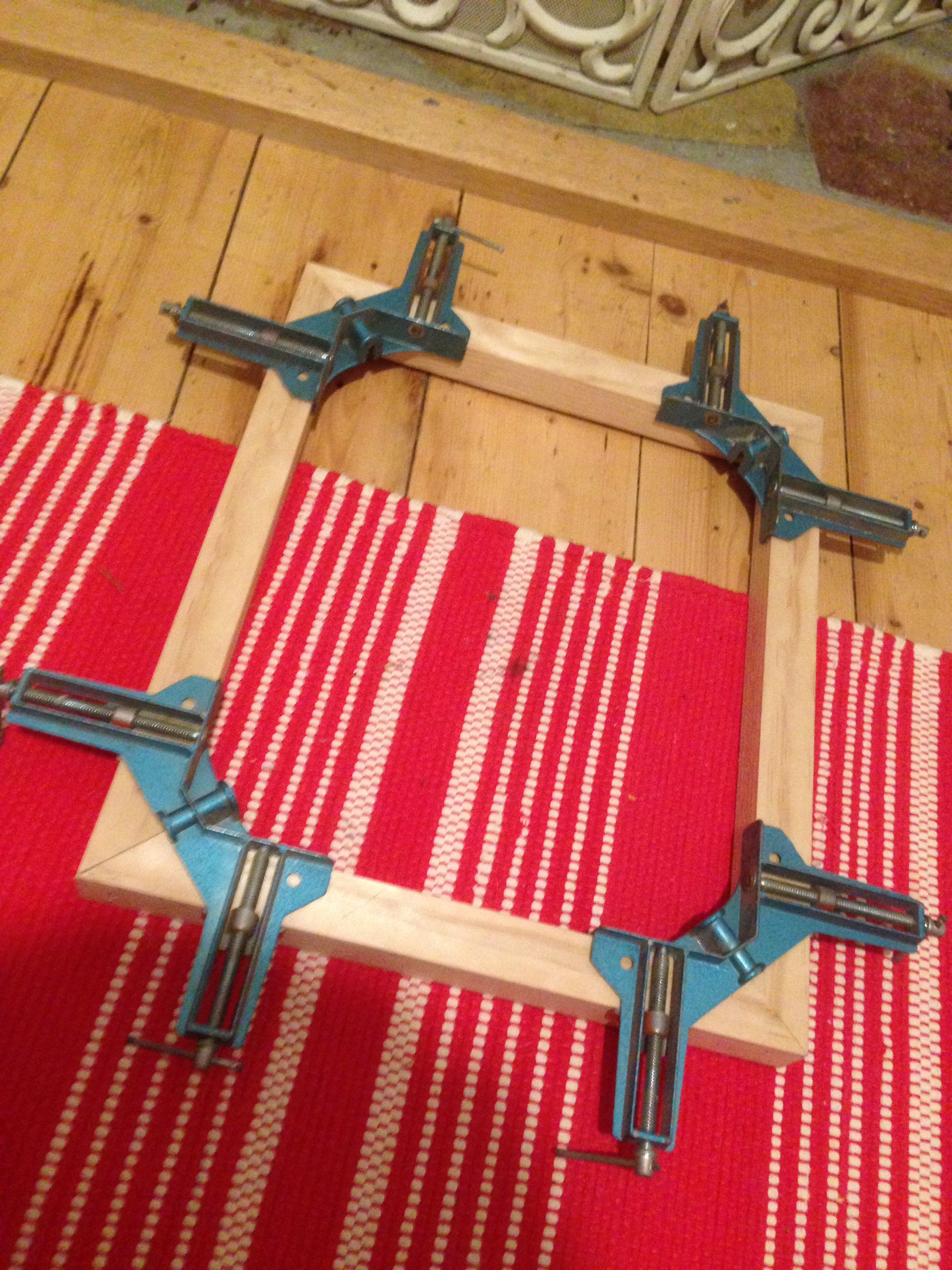 I wanted a window so that I could monitor the egg situation, and as luck would have it I had a heap of spare perspex sheeting from the Land Rover windows. So I made a simple pine frame with two 3mm slots at either edge to make for a nice double glazed window.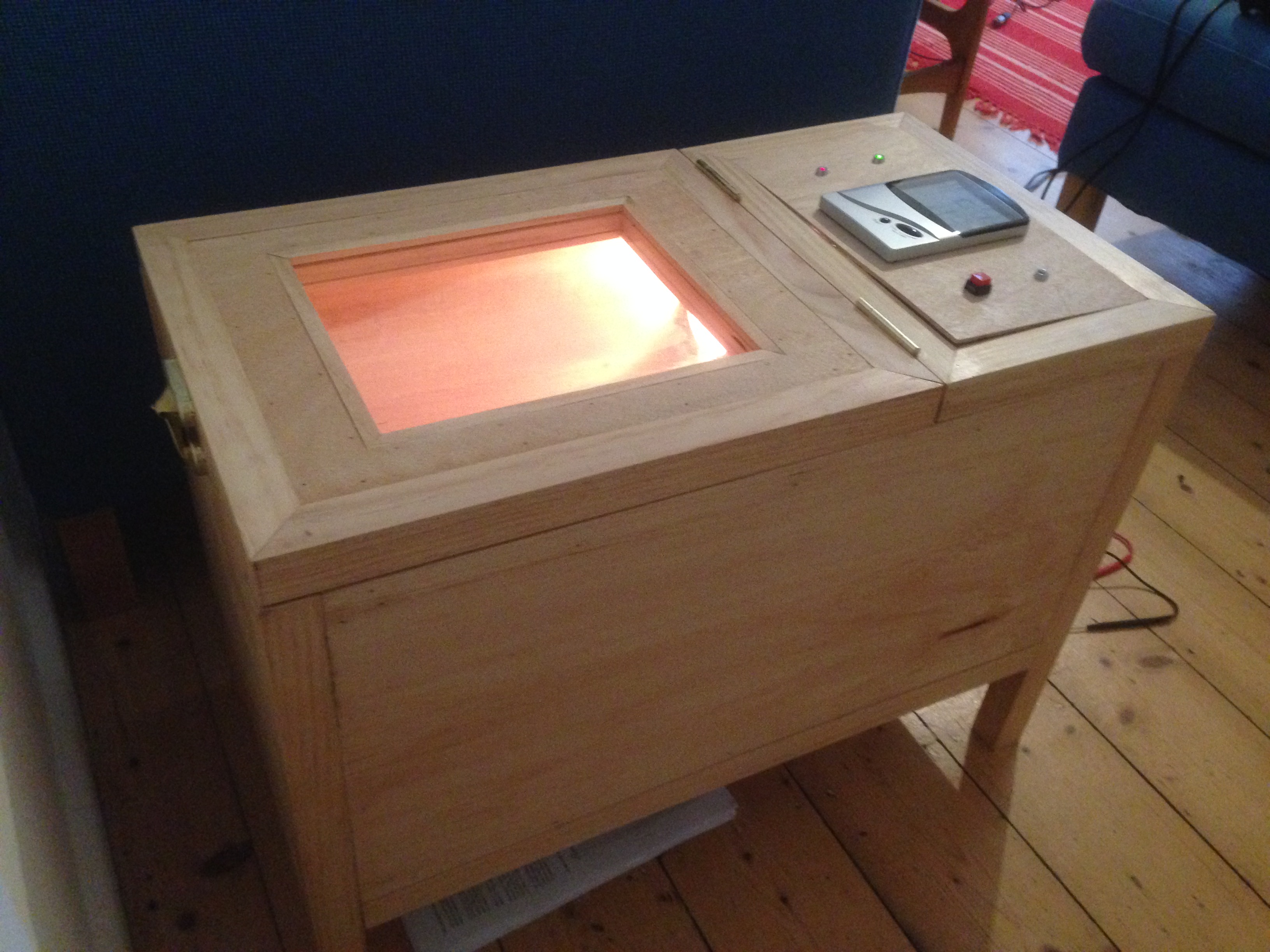 Finally everything got put into place, an old 12 volt switch mode supply powers the thermostat, timer and turning motor. The resistors hanging off the terminal blocks are there to reduce the voltage to the little 5 volt turning motor, I was going to make a regulated supply, but it only runs for 4 seconds at a time, so the resistors hardly get warm to the touch, and I really couldn't be bothered. The AA battery powers the humidity and temperature display.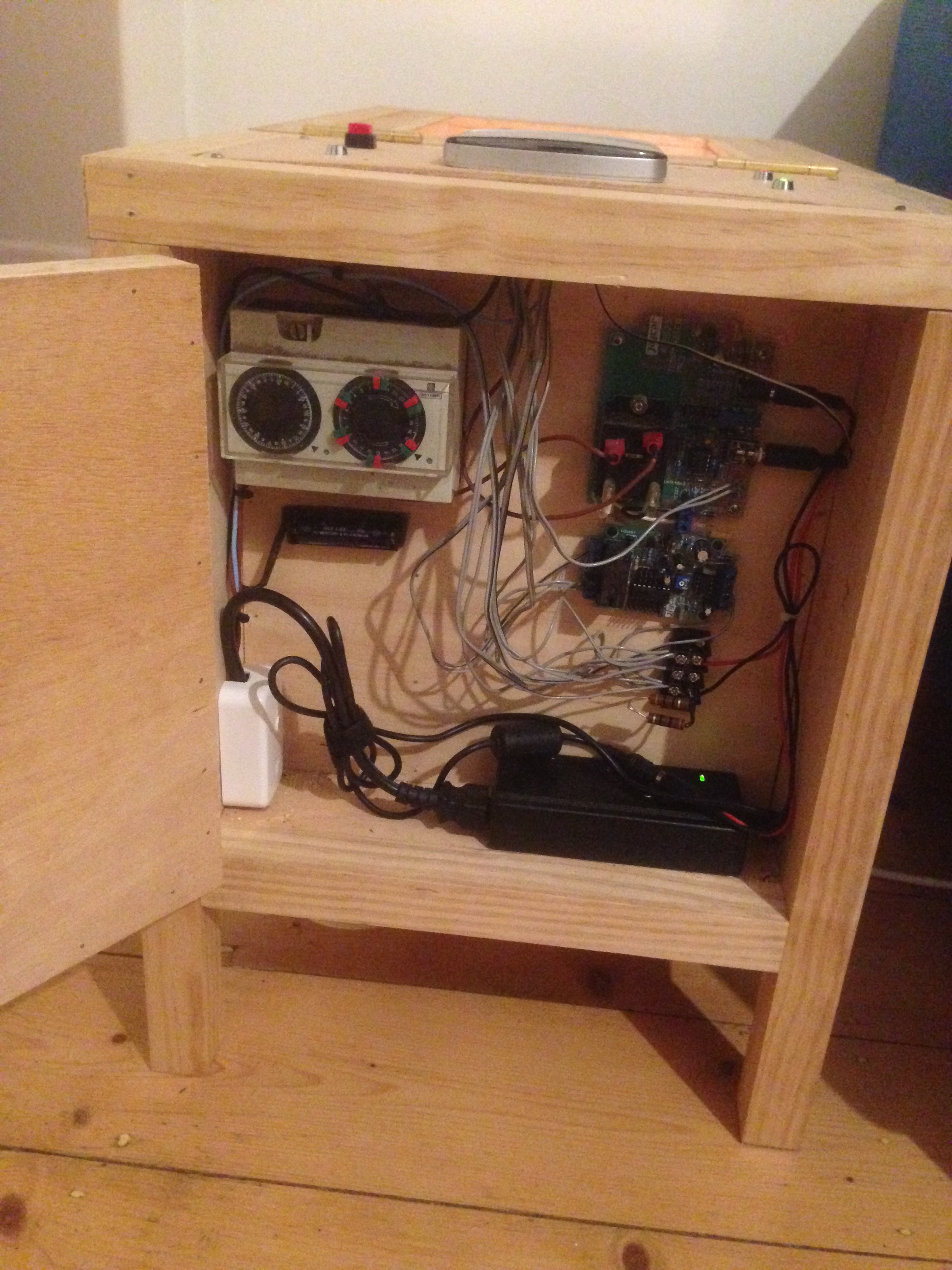 I finally collected the second batch of eggs, so there was no time to waste, I had to get it to humidity and temperature ASAP and throw them in. The egg platform is sitting on 4 little ALDI casserole dishes full of water which I've actually never used for anything.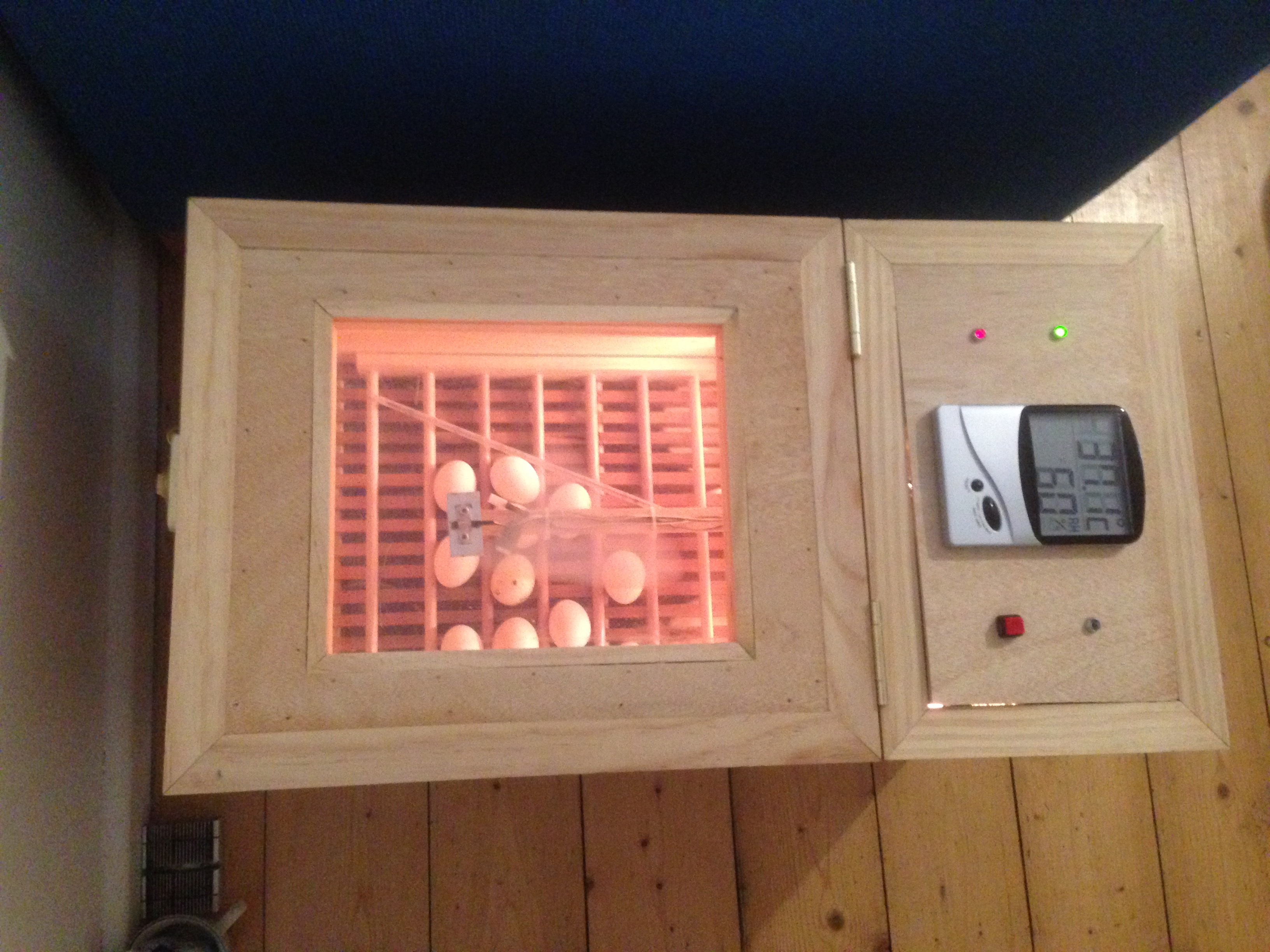 Finally scrounged some screws to retain the front panel, the red button activates the egg turner, the blue LED indicates the egg turner, the green LED indicates power and the red LED indicates that the thermostat is triggering the lights. The lid is just held down with a $4 sash window lock which works well as it's a little bit cammed so tightens down nicely.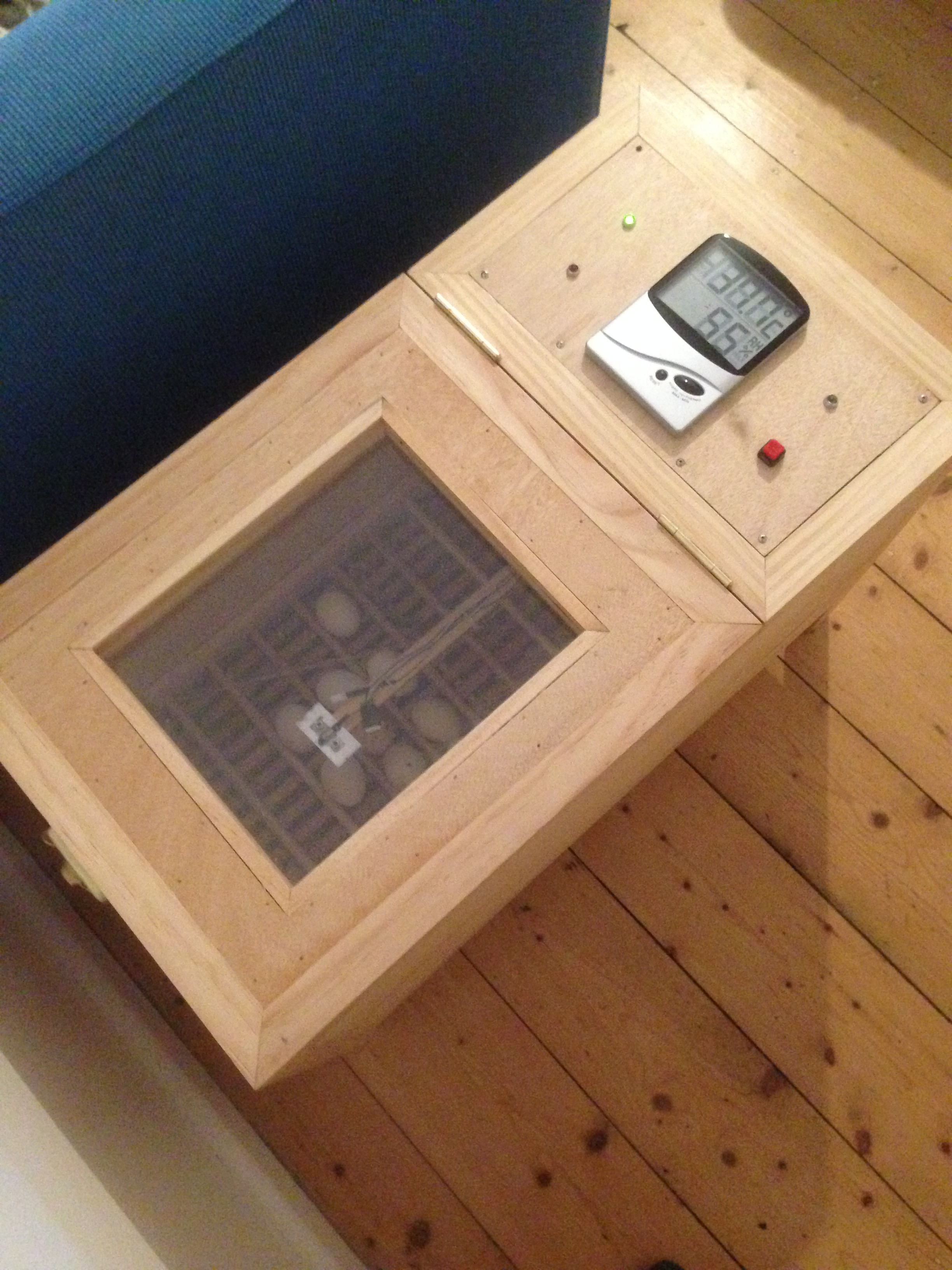 Nothing to do now but wait 3 weeks and see if anything hatches. Obviously it's important to stay as close to 37.7 degrees as possible and keep the humidity at around 55% so checking the water dishes daily is essential. I found that air holes weren't really essential for my build as there was a small gap between the top of the leg and the lid which seemed to do the trick, so I just didn't put any seal there.