Unfortunately I don't have many pictures of my land rover from before I started the restoration, it was 2006 and I was between digital cameras. This was not helped by the fact that I immediately started stripping it down upon getting it back to my place, so you will have to take my word for it when I say that it was very rough. The firewall was rusted beyond repair and both passenger and driver's side doors had been stolen. However it had great diffs, gearbox, engine and had been fitted with the wider Series 3 brake drums and dual brake cylinder setup.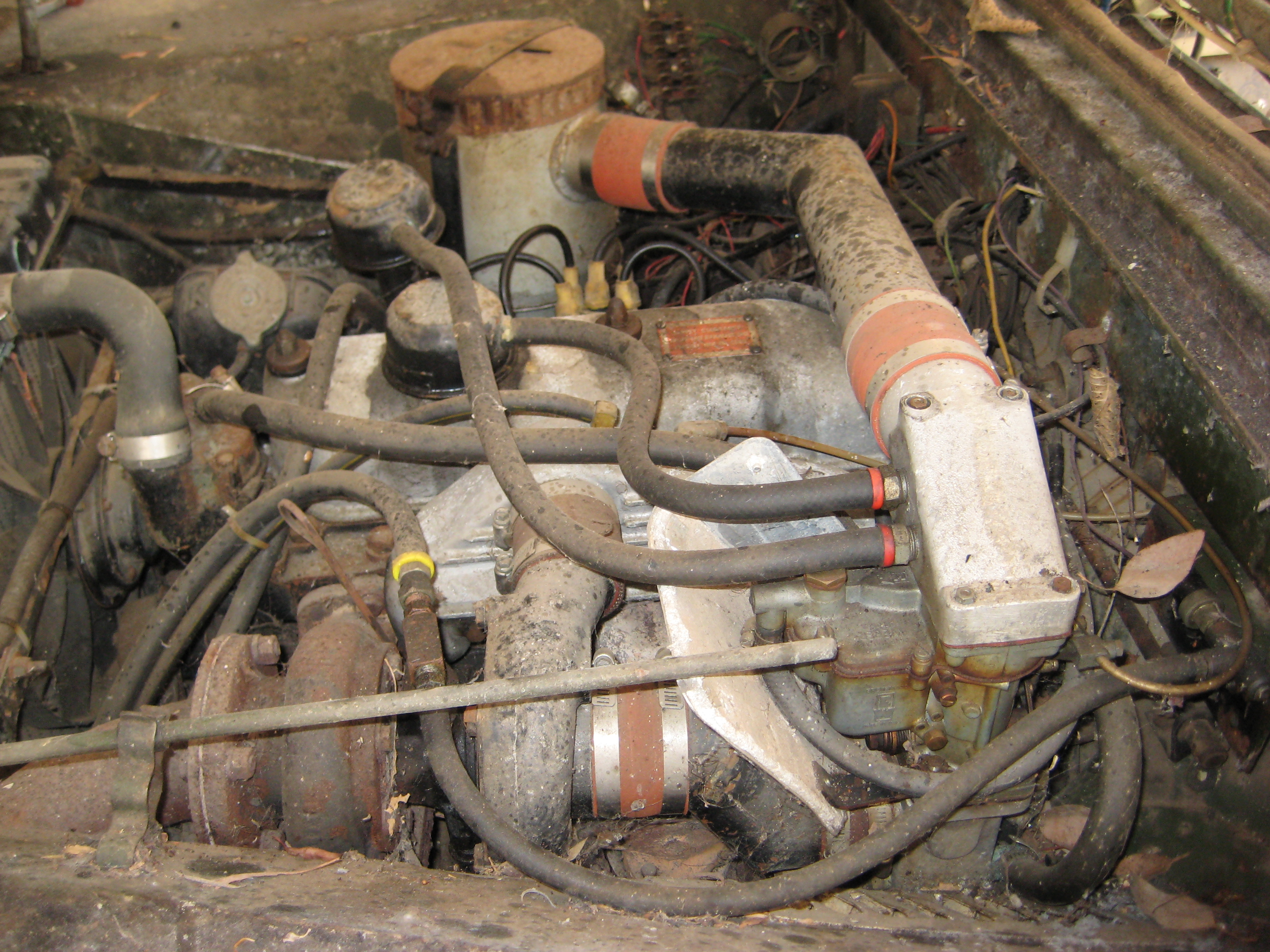 Those in the know will have picked that the engine is far from stock for a series dot. It's the rover 2.25 liter straight four engine running a Roto-master turbocharger in a draw-through configuration with DCD Weber downdraft carburetor. A Renault transmission cooler was used as an engine oil cooler for the turbo, and a Datsun 180B distributer had been adapted to replace the archaic and troublesome Lucas ignition system. The father of the previous owner had worked as an engineer for Rolls Royce during the second world war where he had been producing the now infamous Merlin aircraft engine. He had heavily worked the head adding enlarged exhaust ports, hardened valve seats, surplus Merlin valve guides and larger Peugeot 404 valves.
After my initial burst of enthusiasm I let the car sit for a few years as I pondered how to deal with the missing parts and badly (almost non-existent firewall). This was until one day a friend phoned me up to say that he had spotted the remains of an identical series dot sitting untouched in a friends paddock. The chassis and firewall were perfect, with only very minor surface rust. Research revealed that the car had been a farm vehicle for a Horsham dairy before being retired and sold off. I sandblasted both chassis, firewall and any other rusty bits in a ghetto spray booth and sent them away for hot-dip galvanizing. The galvanizing would hopefully prevent the problem of rusty firewalls that was common to almost all Series Dot Rovers. I should note that sandblasting with sand is quite dangerous as inhaling the super fine silica particles produced can lead to silicosis, this is why I made a booth and used a respirator with a fine particulate filter to be doubly sure. If you can get your hands on or afford garnet it's probably the safer way to go.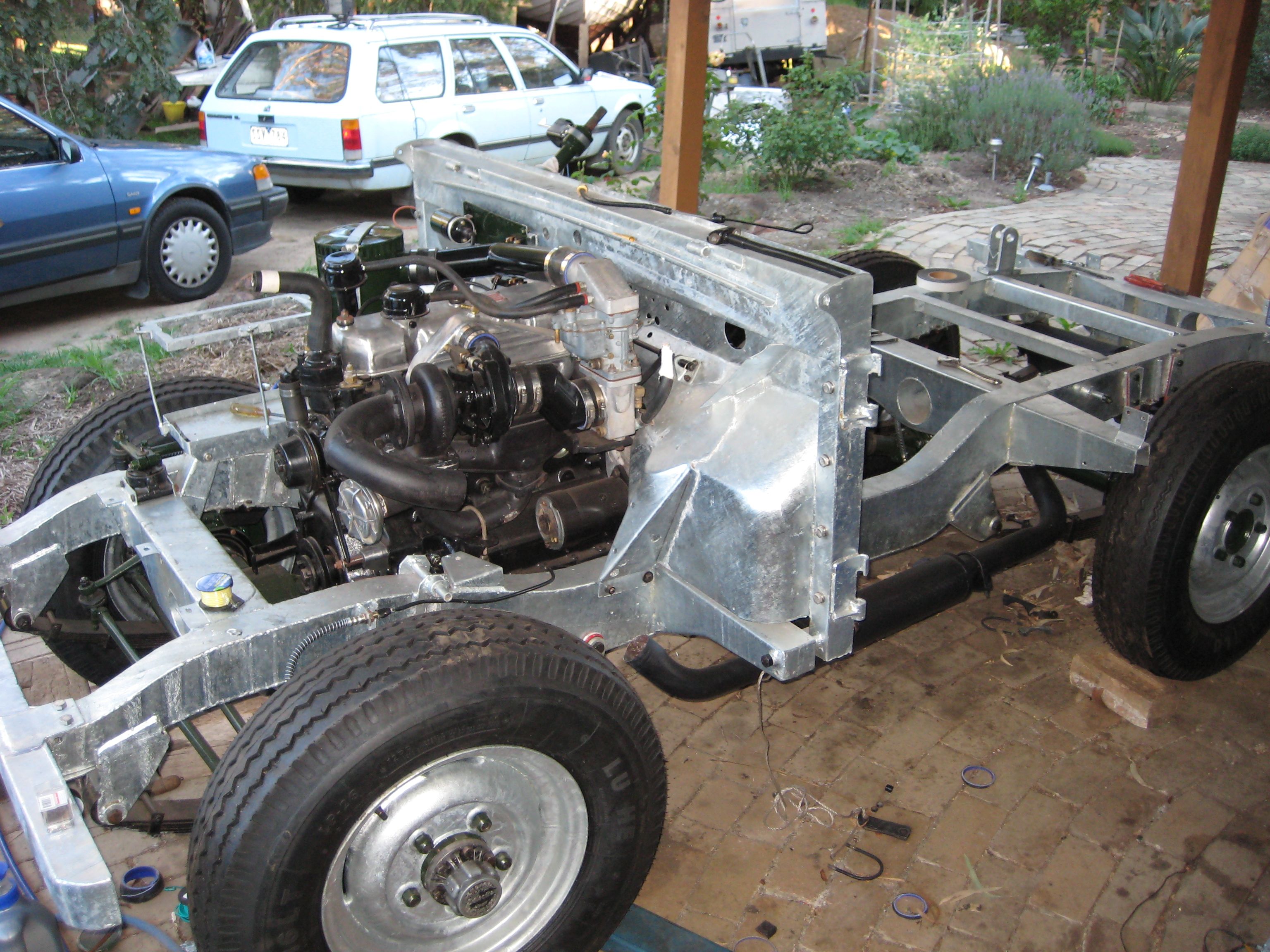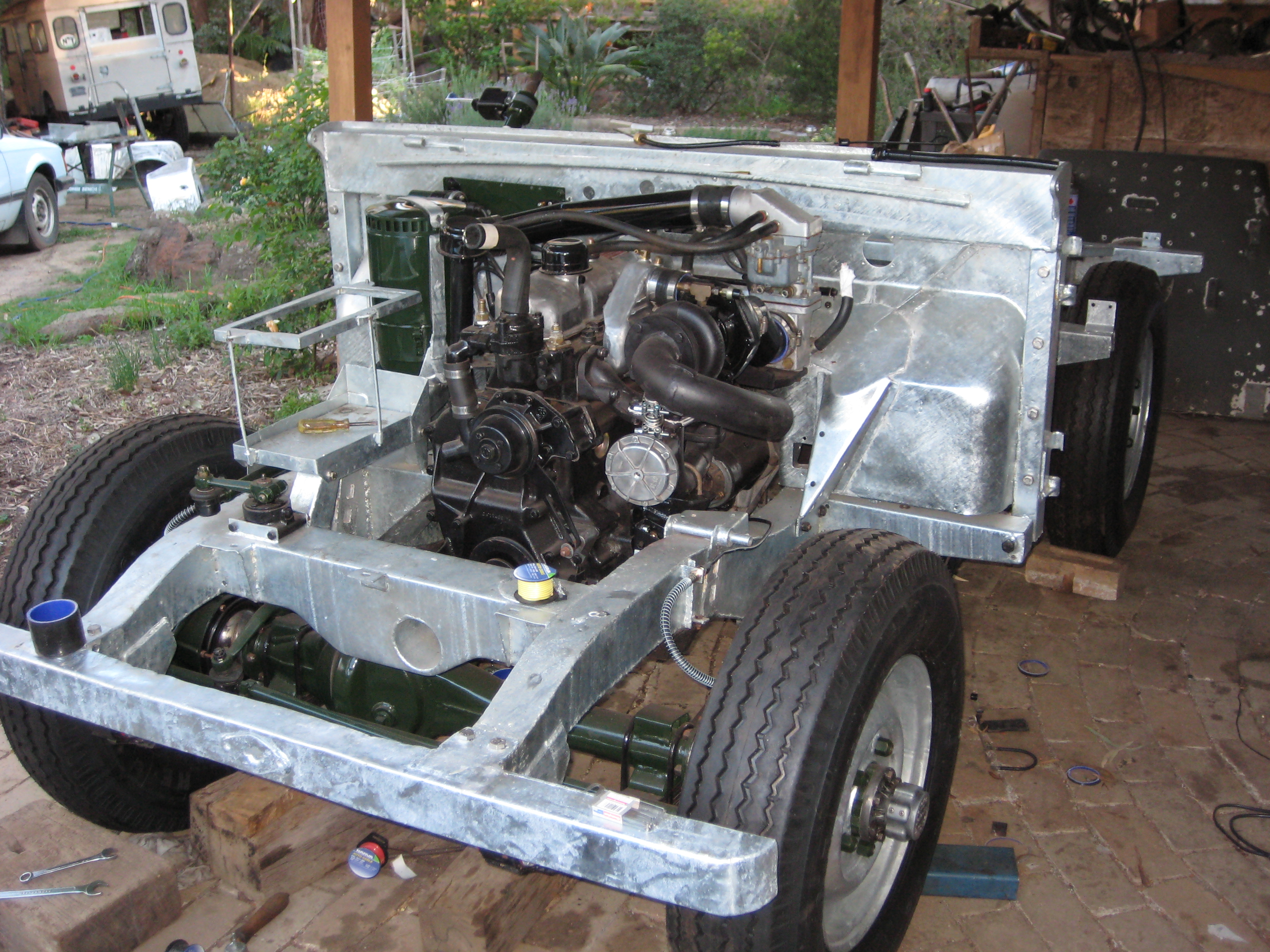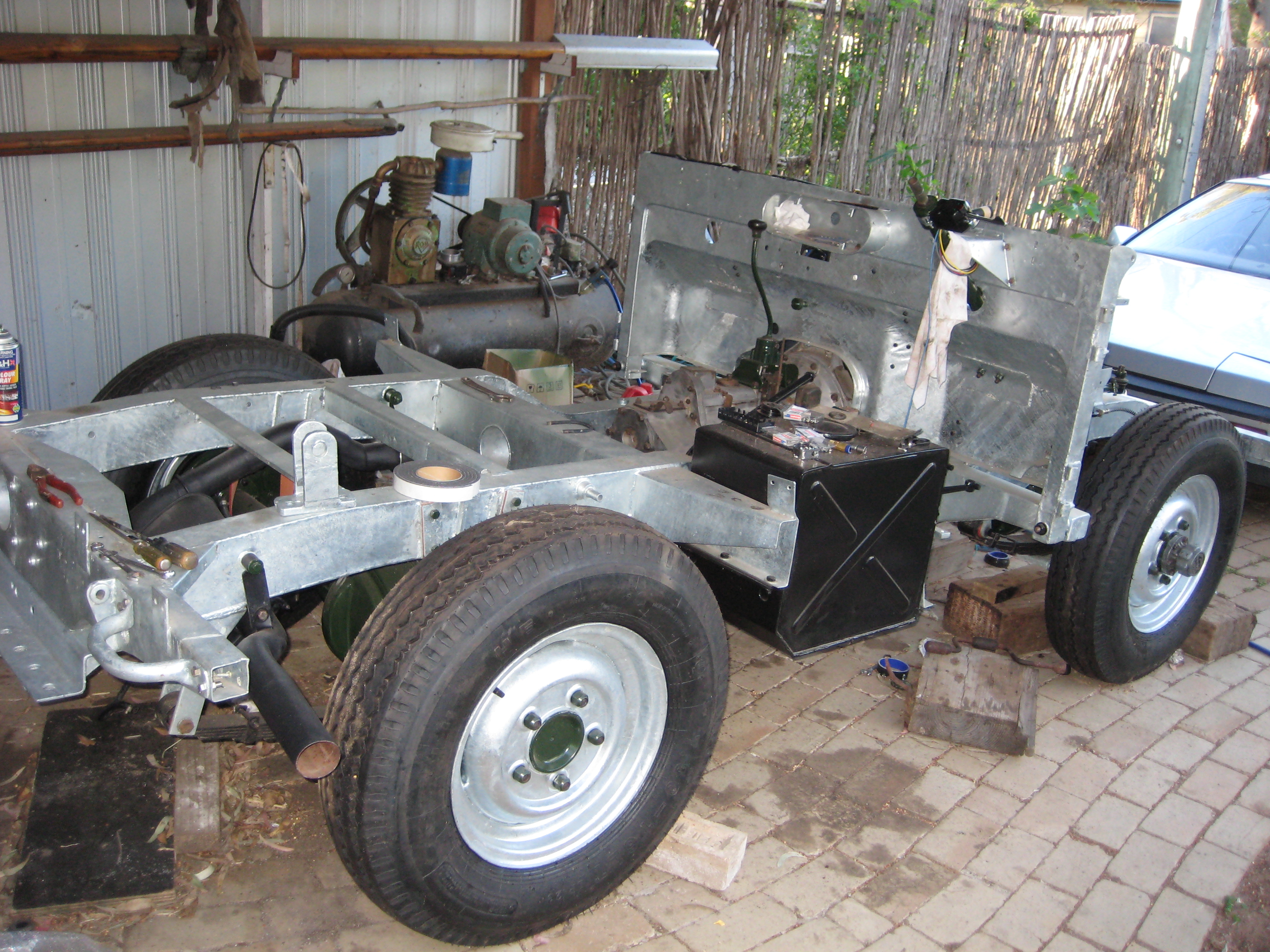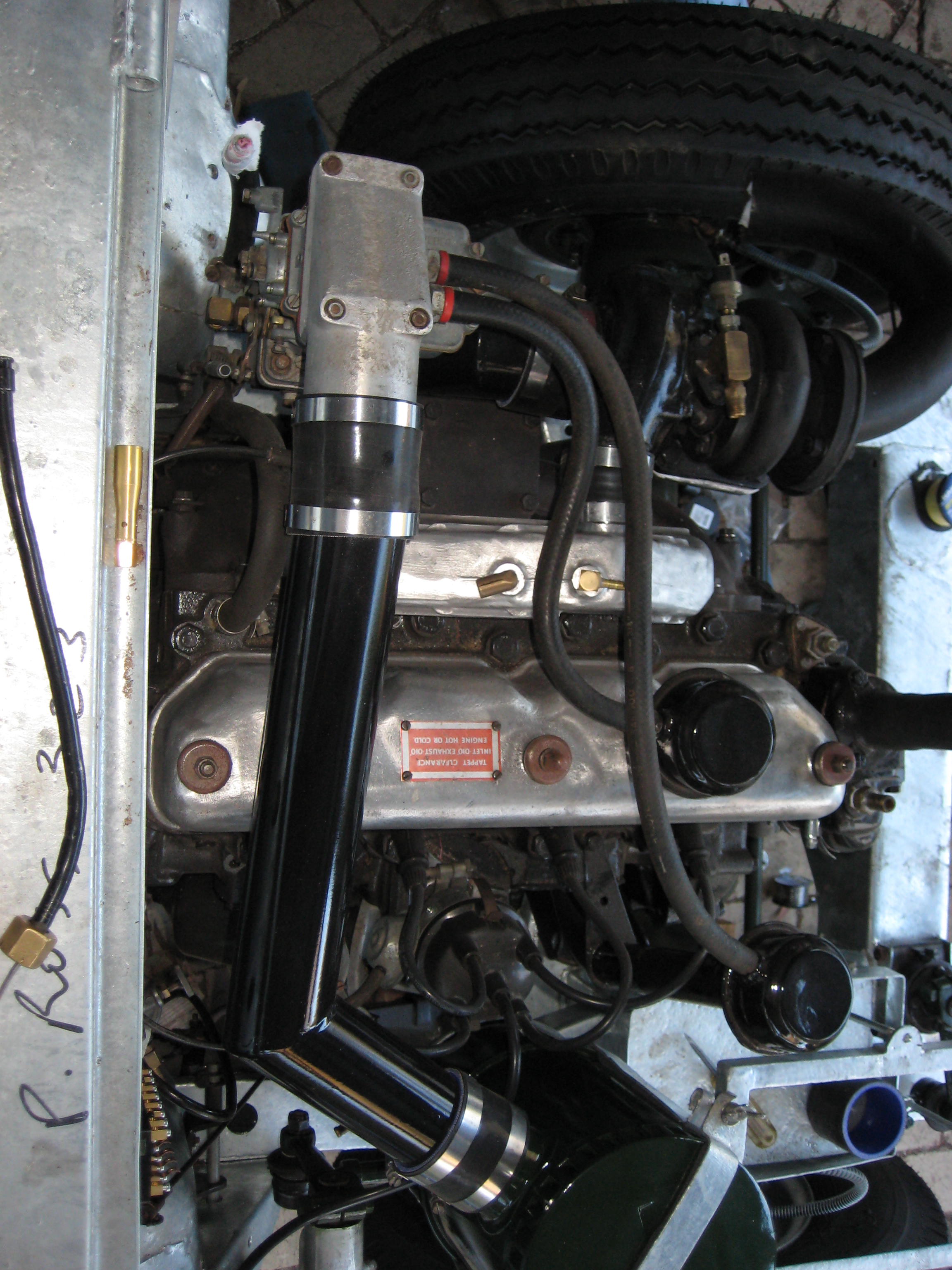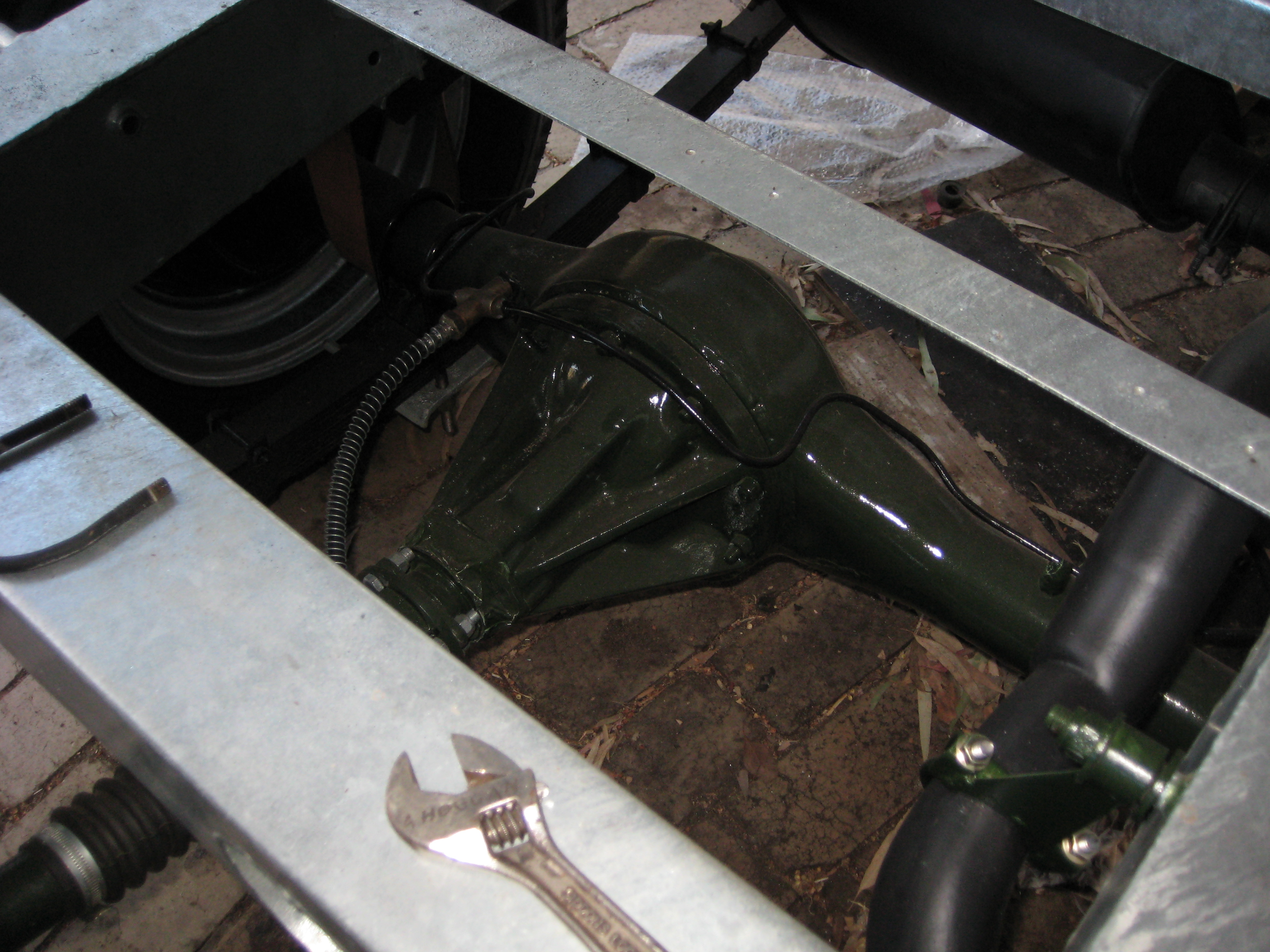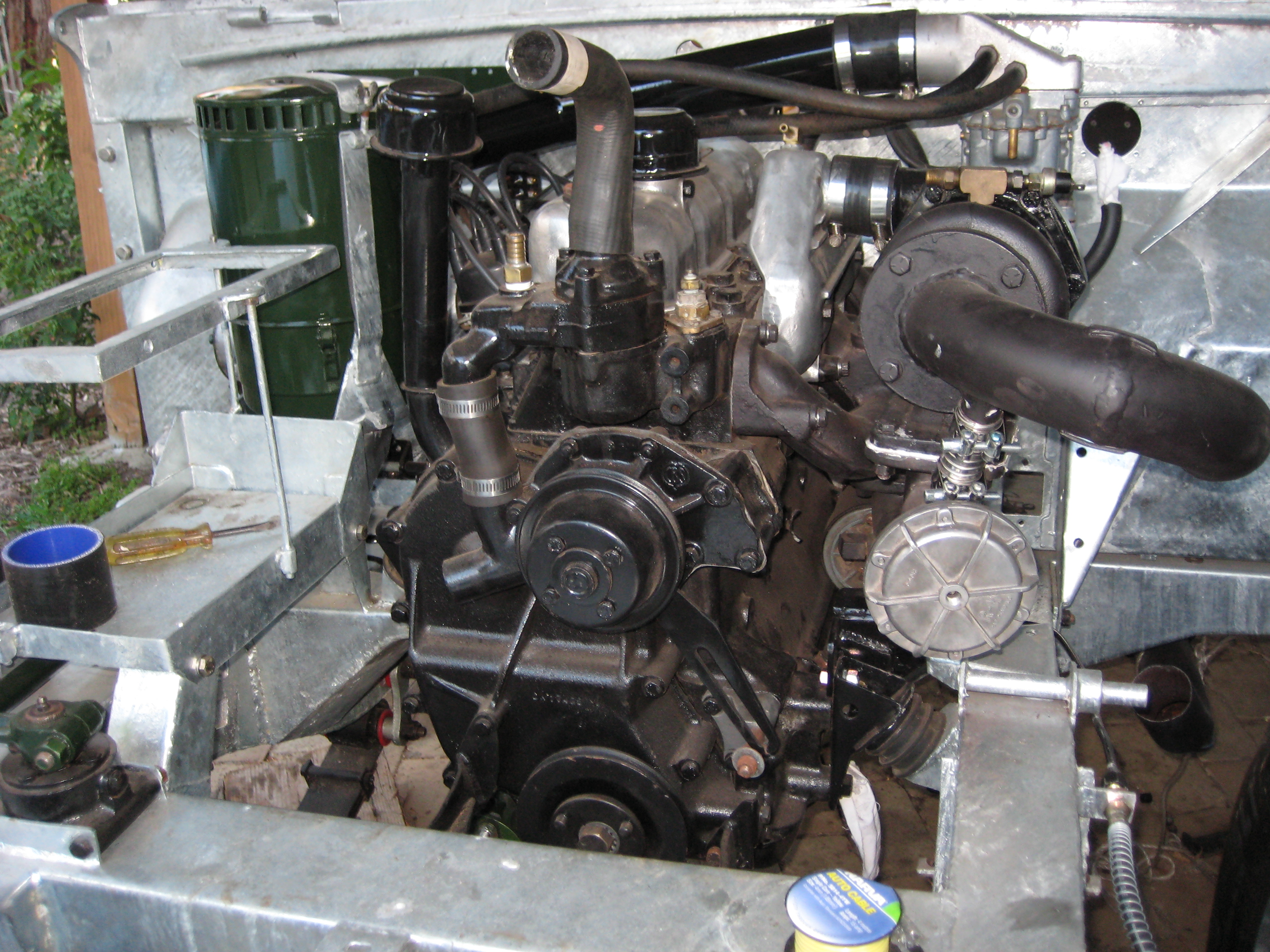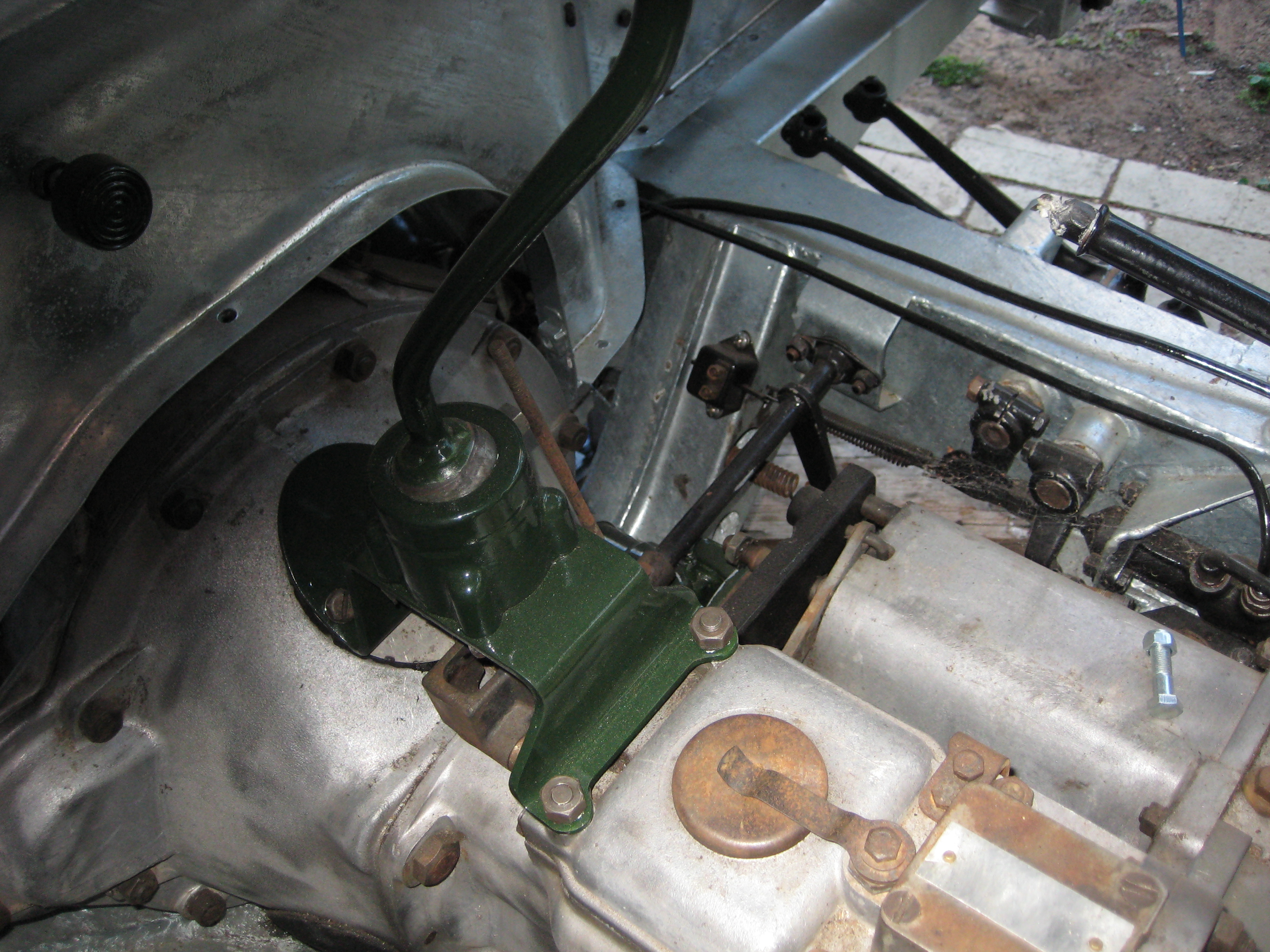 Once I got the chassis and firewall back I started by setting the chassis up on blocks, i fitted the transmission and engine as one whole unit as I had no need to replace the almost new clutch and thrust race so had not split the two, The engine had been fitted with new welsh plugs, water pump, thermostat, and Bosch (no more terrible Lucas prince of darkness) alternator. The firewall was then bolted over which allowed gauges and basic wiring connections to get started. I then fitted the repainted diffs (new seals all round) and springs up under the chassis using Nolathane bushes, these were complimented by a set of new Monroe 4×4 shock absorbers. The shocks for series dot Land Rovers are not listed, however I found that wartime Jeep shock absorbers had the same dimensions, this makes sense when you look into the history of Land Rover. I bent up a set of new copper coated brake lines that I ordered from England, fitted the clutch linkages and started with the throttle linkage. Exhaust system, fuel tank, tail shafts, air cleaner and all the other fun things followed.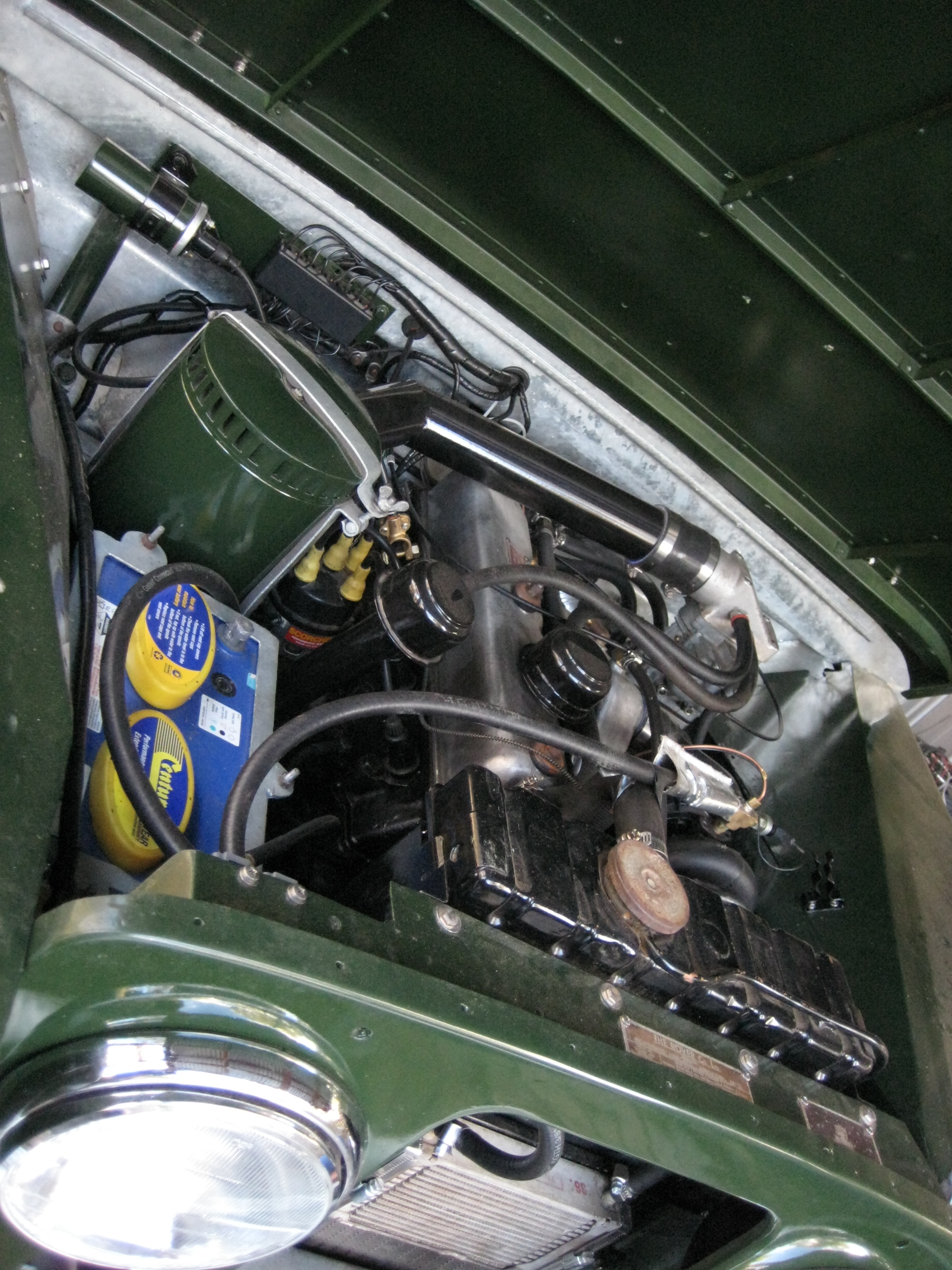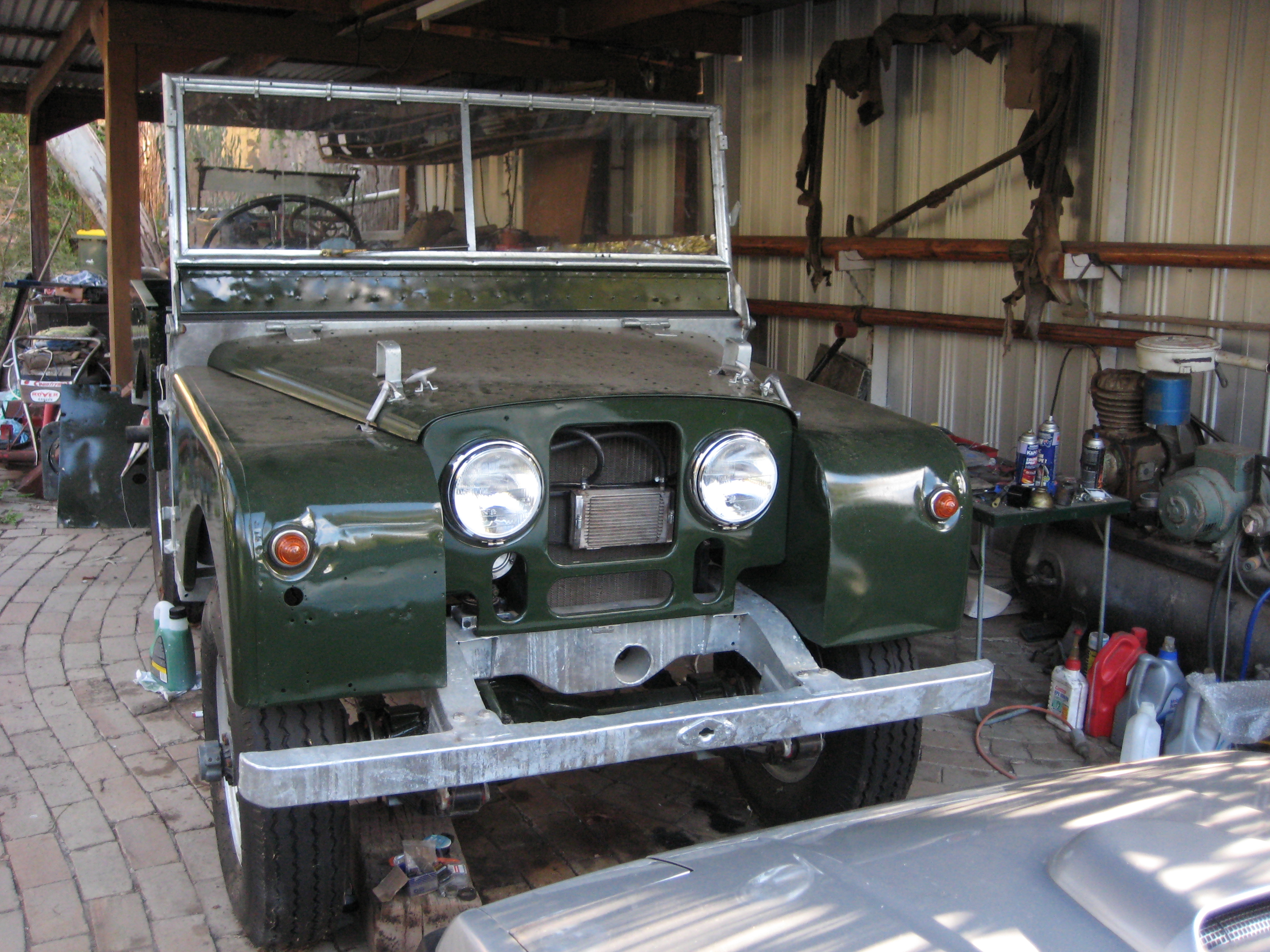 The front grill and radiator were the next job, the aluminium radiator surround had work-hardened and cracked, requiring me to reinforce and re-weld the broken areas using a TIG welder and aircraft rivets. The radiator was given a new high-flowing core before being bolted into the surround and fastened to the chassis together with the turbo oil cooler. The front mudguards and bonnet quickly followed.